Premier Combo Insulator
(15) Read reviews »
For insulating and attaching a conductor to an in-line steel T post. Designed to fit between the post studs. Combines wrap around design with a pin lock style face.
Extra strong—more plastic (virgin polyethylene) in these than similar farmstore insulators.
Data
---
Benefits
Designed by Premier to be the best T post insulator available.
---
Specs
Hard plastic
Fits all sizes of steel T posts
Made of virgin polyethylene with a UV additive
25 per package, but sold individually
---
How to Use
Hook the short side of the insulator onto T post
Pull or push the long side of insulator around the front of post
Hook long side around the back of post
Remove pin, insert conductor and replace pin
Accessories
Listed below are recommended optional components or related items. Your particular situation may require alternative recommendations. Please call and talk to our consultants if there are any questions at 800-282-6631.
Reviews

(15)
Write a Review
You must be logged in to leave a review. Please sign in.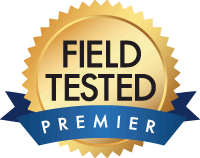 Stretching the insulator before installing it makes the process much easier. If you try to remove the pin from the lock (after it has been inserted) you might tear the plastic cord that holds the pin to the insulator (a minor headache). With that said, we really do like this insulator, it goes on easier than other insulators.
Premier Combo Insulator
Peter R from Maryland
6 months of use. Great so far. Work great for inline with electrified rope. Work great for temporary corners with electrified twine.
Premier Combo Insulator
Wendy/alan B from Maine
These go on easily and hold twine securely. The best T-post insulators I've even found.
Premier Combo Insulator
Colin K from Minnesota
I have been very happy with these insulators to date. They have given me 3 years of good service and are easy to install.
Premier Combo Insulator
Keith Wade D from Missouri
On the positive side, these insulators are economical. However, after just two years of being on my posts, when I try to move any of their positions on the post, they break in my hand. I order over 500 of these in Aug of 2010 and by April 2012 they are brittle and breaking.
Premier Combo Insulator
Pamela P
Love these insulators! Easy to use.