The "Premier" Fiberglass Crook
(34) Read reviews »
This fiberglass crook is light and strong—so it's "quick" to use even in relatively weak hands.
Benefits:
Quickly catches lambs and kids
Can close gates
Easily lifts newborns out of pens
Sorts rams from ewes
Guides livestock through handling yards
Use as an easily seen pointing device
Which crook is right for you?
Each crook has their benefits. No shepherd is complete without a crook in hand, they save time and command the flock. Visit this link to compare all crook options.
Data
---
Specs
53"L
Neck opening: 4-3/4"
Top is a tough molded plastic that holds its shape and rarely breaks.
Shaft is durable, coated fiberglass. Unlike aluminum, it does not bend or deform.
We also carry handcrafted crooks and walking sticks which make the perfect gift for any cane enthusiast.
---
Tips
For catching small breeds, lambs, sheep with wool, or goats with a neck crook:
Once the neck is inside the loop, instantly rotate the crook with your wrist. This applies pressure to both sides of the neck and gives you a second or two to pull the animal into reach of your hands.
Accessories
Listed below are recommended optional components or related items. Your particular situation may require alternative recommendations. Please call and talk to our consultants if there are any questions at 800-282-6631.
Reviews

(34)
Write a Review
You must be logged in to leave a review. Please sign in.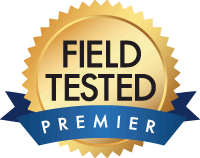 It's the most functional neck crook we've ever used. Given a choice, we always grab this one.
The "Premier" Fiberglass Crook
Lee B from California
Have used this on sheep, goats, and even llamas. Been very happy with these crooks, light weight and strong. Apparently there was a bad batch several years ago and a lot of the poor reviews are based on this batch.
The "Premier" Fiberglass Crook
Helen & Adam W from Missouri
Had this stick for about two hours and the first time that it was used the crook came right off the end. If a 45lb lamb can do that then it will stand no chance against a full grown ewe. This is the first product that I have ever received from Premier that I am completely dissatisfied with.
The "Premier" Fiberglass Crook
Tom S from Wyoming
The first couple of these I bought wore like iron. Very good product. The next couple broke like straws??? Final verdict will be in this last order. I don't know what was changed, maybe a bad batch?
The "Premier" Fiberglass Crook
Peter P from New Hampshire
I purchased a Premier crook after owning a Colroy crook for 7-8 years. This crook did not last a year before the shaft splintered / bent in the middle like a noodle. So I purchased another Colroy crook 3-4 years ago and found that the newer ones had changed and were also thin wall fiberglass, weighing less and very similar to the Premier crook. That 2nd one had the head came loose after about a year of use. Now I use the aluminum red coat hook which bent several times rather easily but it does bend back. Not so pretty but functional for 5-6 years so far. The Premier crook, I repaired by mixing some epoxy and poured some down the shaft from the bottom and stuck a 3/8 fiberglass fence rod down inside. Then added more epoxy. It weighs a bit more but stiffened up the damage area, so it does work. The cheapened Colroy got the top of the shaft cut down 2 inches and I reattached the hook end and it makes a good walking stick.

The Colroy looks like it's been discontinued. Built to the original specs, they were well made and did last a while.
The "Premier" Fiberglass Crook
Christopher G from Wisconsin
I found this crook was too lightweight for my Polypays, and didn't hold up, at least not in cold weather. Its light weight makes it faster for catching small lambs than a clunky hickory one, but if you're going to try to catch grown ewes, I'd recommend a heavier crook.