The "Premier" Fiberglass Crook
(37) Read reviews »
This fiberglass crook is light and strong—so it's "quick" to use even in relatively weak hands.
Benefits:
Quickly catches lambs and kids
Can close gates
Easily lifts newborns out of pens
Sorts rams from ewes
Guides livestock through handling yards
Use as an easily seen pointing device
Which crook is right for you?
Each crook has their benefits. No shepherd is complete without a crook in hand, they save time and command the flock. Visit this link to compare all crook options.
Data
---
Specs
53"L
Neck opening: 4-3/4"
Top is a tough molded plastic that holds its shape and rarely breaks.
Shaft is durable, coated fiberglass. Unlike aluminum, it does not bend or deform.
We also carry handcrafted crooks and walking sticks which make the perfect gift for any cane enthusiast.
---
Tips
For catching small breeds, lambs, sheep with wool, or goats with a neck crook:
Once the neck is inside the loop, instantly rotate the crook with your wrist. This applies pressure to both sides of the neck and gives you a second or two to pull the animal into reach of your hands.
Accessories
Listed below are recommended optional components or related items. Your particular situation may require alternative recommendations. Please call and talk to our consultants if there are any questions at 800-282-6631.
Reviews

(37)
Write a Review
You must be logged in to leave a review. Please sign in.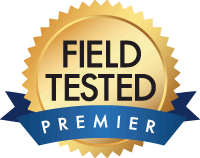 It's the most functional neck crook we've ever used. Given a choice, we always grab this one.
The "Premier" Fiberglass Crook
Kristen B
Used to be called the "Colroy" crook. This is my favorite crook... it's light, strong, and feels balanced. I love this crook and would highly recommend it... I have used it for everything from lambs, ewes, small rams, closing gates, lifting buckets and Porta Troughs from over or through the fence, etc. I do find, however, that it is a little small to fit around the neck of big rams! I have a large, heavy oak crook for that when I need it.
The "Premier" Fiberglass Crook
Tony T
It crook is strong and durable yet lightweight.