Prolapse Harness
(35) Read reviews »
The most effective and gentle "antidote" for a prolapsed ewe.
Used to hold a vaginal prolapse in long enough to get the ewe to her lambing date.
The soft red nylon webbing minimizes risk of tissue damage around the udder and vulva (a much too frequent result of homemade twine efforts).
Used in conjunction with a prolapse retainer.
Data
---
Benefits
Allows you to help the ewe carry her lambs to full term.
If prolapses are treated when small, the success rate is very high.
Makes the ewe more comfortable and able to urinate on her own.
The neck, back, and leg straps each adjust to fit ewes of all sizes.
We find that these harnesses will last for many years with moderate care.
How does it work? When a ewe strains, her neck drops and her back arches. This pulls the cross webbing of the harness tighter against the vulva and also pulls the retainer (if one is used) into the ewe. Most ewes soon cease to strain. Although ewes can lamb past a harness, we remove it when lambing starts.
---
Specs
The neck, back and leg straps each adjust to fit ewes of all sizes
Snap buckles enable easy attachment, removal and adjustment
Made from 1" and 2" nylon strapping
Approximate adjustment sizes:

Neck, 36"
Neck to hips, 26"
Hip around leg, 45"
---
---
Precautions
An animal's tendency to prolapse has strong genetic links. So it is good management to cull any ewe that prolapses from the breeding flock before the next breeding season—and do not retain any of her lambs.
Do not grab onto the harness as a way to catch a ewe. The buckles are designed for harness adjustment only.
Accessories
Listed below are recommended optional components or related items. Your particular situation may require alternative recommendations. Please call and talk to our consultants if there are any questions at 800-282-6631.
Equipment

An all-purpose antiseptic OB lubricant for lambing and kidding. Very useful if a lamb (or kid) goes dry during birth.

2024 New Products

Spoon device for retaining vaginal prolapses of ewes or goat does. Attach to wool or a prolapse harness.
Reviews

(35)
Write a Review
You must be logged in to leave a review. Please sign in.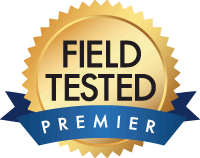 We keep one of these on hand in each lambing barn because prolapses are messy, troublesome and can take the fun out of a lambing season. If a prolapse is treated when it is small, the success rate of treating a prolapse with a harness is very high. Our harness takes the old baling twine method and adapts it with reusable materials and a more comfortable fit for the ewe. We recommend using the harness with the retainer spoon until the ewe stops straining, then we remove the spoon and slightly loosen the harness.
Prolapse Harness
Timothy T from Washington
Well made product, I can see how useful it will be. I have not needed it but since getting stared in this venture I have it just in case.
Prolapse Harness
Robin F from Massachusetts
I purchased this last year, just in case. I am so glad I did. My ewe, who was close to her due date, had a mild prolapse the size of a golf ball when she was laying down. She would stand up and it would disappear. I used the harness alone without the retainer. It kept everything in place and she delivered a healthy lamb three days later. I did remove the harness when she went into labor.
Prolapse Harness
Mark P from New York
Harness worked great. Easier to get on and off compared to the spoon. Instructions would be nice as we weren't sure it was supposed to go around the neck for fear of choking.
Prolapse Harness
Sharon G from Missouri
Absolutely works, had a Katana who had prolapsed, the company was great, got 1 day shipping and the rep took the time to call me and let me know that due to COVID the shipping was not guaranteed and discussed alternatives, got it in 2 days, delivered on a Sunday, great company, great rep. and great product, I'm sure this saved my lamb, she gave birth to twins about a week later. Will definitely use this company again.
Prolapse Harness
Bonnie Y from Ohio
Got this product for a goat doe that had prolapsed. It wasn't in time for her but about a week later I found another goat with a prolapse. I used the retainer and the harness and successfully got the prolapse back in the goat. This process went pretty well, but it can be kind of hard when you are doing it yourself. Make sure you get the harness fitted before you put in the retainer. The doe did kid around the retainer and the harness. The kids were early and she dropped them between 10 pm and 8 am so the kids did not make it.

However, I would definitely use the product again and suggest everyone with breeding sheep or goats have the retainers and prolapse harness on hand. I bought four of the retainers and two of the harnesses so I have them on hand in the future.