Videos & Data
---
---
---
Tips
Tag placement is critical to success!
For maximum retention and the lowest risk of bleeding and infection, place ear tags in either of the two spots shown in the illustration below. The goal is about 2-3 inches from the head of the animal.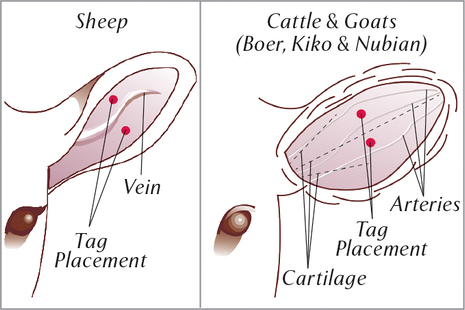 How-to: Insert Ear Tags in Cold Weather
Plastic tags (all brands) are much easier to install if they are warm. Why? As the temperature drops below freezing, plastic becomes less flexible (more stiff). Forcing the male point of a tag through the female takes many more lbs. of pressure (because the female must expand).
So if you care about your hands it's a good idea to keep the tags above freezing in very cold weather. It takes very little to do this. One method is to simply store them while tagging in a small bucket, cardboard box or tool box with a lid alongside a sealed pop bottle full of warm water. The warm water will keep both the air and the tags warmer in the container.
Reviews
Write a Review
You must be logged in to leave a review. Please sign in.
Qwik Tag Applicator
Dennis H from Mississippi
This is a great ear tag applicator but it not for scrapie approved ear tags. If you need for ID purposes it a great buy. I highly recommend it.
Qwik Tag Applicator
Debbi B from Texas
Well made tag applicator, and very easy to use! So far I really like the small tags I purchased for my lambs this year. Hoping they will be harder for them to pull through.
Qwik Tag Applicator
Rachele W from Texas
Works great on lambs. Easy to use and just the right size tags for sheep.
Qwik Tag Applicator
Polly M from MD
This is certainly the nicest/easiest to use/ most solid tag applicator that i have ever used. tagging lambs is not fun, but it's a LOT better with this applicator and the quick tags than anything else i have yet found. now to wait to see if the quick tags get caught in the electronet, like all other tags i have used so far have done. so far, three weeks after tagging, no lamb has been caught. but the season isn't over yet. i'll ramp this up to five stars if no lamb gets caught in the next three months.