RopeLink 2.6 and 2.45
(40) Read reviews »
For splicing and terminating rope.
Needs no tools (winds on and off by hand). Clean, neat profile. Low cost.
So simple to use that it will surprise you.
Videos & Data
---
---
How to Use
To work correctly, rope(s) must be overlapped the length of the RopeLink.
Starting at either end of RopeLink, lay overlapped rope into the first curl.
Hold link with thumb and finger; with other hand, wrap overlapped rope into the rest of curls.
After there is tension on the rope, the RopeLink will not slip.
---
Precautions
Make sure to turn OFF fence energizer before installing.
Accessories
Listed below are recommended optional components or related items. Your particular situation may require alternative recommendations. Please call and talk to our consultants if there are any questions at 800-282-6631.
Reviews

(40)
Write a Review
You must be logged in to leave a review. Please sign in.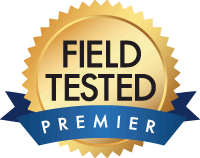 A very simple solution to terminating and splicing rope fences. The 6mm ropelink can be used with IntelliBraid, EnduraSoft and 6mm IntelliRope. The 4.5mm ropelink works with our 4.5mm IntelliRope. This winter we had a break in one of our fences and it was quickly and easily repaired by using a ropelink to splice the broken conductor. These are used wherever we have one of our polyrope conductors (most of our fences have a poly
… Read More »
rope conductor).
RopeLink 2.6 and 2.45
Mary E from Iowa
These are effective and cool little gizmos! I use them on splices and to just tie back an long tale and the end of my fence.
RopeLink 2.6 and 2.45
Teresa G from South Carolina
Super easy to use! Evrything I bought was perfect. I even forgot to get corner insulators and bought some at Southern States. MISTAKE I won't do again.
RopeLink 2.6 and 2.45
Jim D from Alabama
everything i have purchased from you has been 5 stars and fast shipping ..premiere is my fence store.... thanks
Jim
RopeLink 2.6 and 2.45
Erika K
I will never be without these connectors. They work better than I ever thought they would. Just don't put them in a pocket with a tiny hole in the bottom. As you walk around one will screw itself through the hole and they are next to impossible to find in the grass.
RopeLink 2.6 and 2.45
Judy F from TN
These are the best thing since sliced bread. Really easy to use and hold the electric rope grate, don't think I will go back to the rope connectors.