SmoothCote™ FiberRod Post, 6 ft (11/16 in. dia.)
Read reviews »
Temporary fence post. Great for extra support on corners, curves and ends of temporary fence lines. They also excel as corner/curve/end support posts for our taller nets (PermaNet, PoultryNet, Deer QuikFence).
Data
---
Specs
White in color.
6 ft. tall.
Pencil-pointed
Coated
11/16 in. diameter
If you purchase 10 or more posts, a drive cap is included.
---
Installation
Attach drive cap (sold separately, see accessories tab above) and drive pencil-pointed end into ground with a hammer at designated area. If not using a drive cap use a rubber mallet so as not to create splinters on the post.
Accessories
Listed below are recommended optional components or related items. Your particular situation may require alternative recommendations. Please call and talk to our consultants if there are any questions at 800-282-6631.
Posts and Accessories

Item #321942 -

Place over tops of fiberglass posts prior to insertion. Reduces damage to the tops of posts.
Reviews
Write a Review
You must be logged in to leave a review. Please sign in.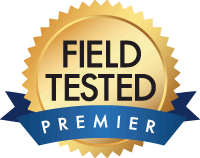 If we need an extra end or corner post when we're installing net we try and grab one of these posts. They are thick and very heavy duty and don't give into strain from the net. They won't splinter like farmstore fiberglass rods We have used a T-Post pounder to put these in the ground, however this will create unnecessary wear to the top on the post, so using the drive cap will reduce wear
… Read More »
on yout post.. They can do most of the work of a T-Post without grounding out the fence.
SmoothCote™ FiberRod Post, 6 ft (11/16 in. dia.)
Theresa S from Southwestern PA
These posts do make a difference! Glad I added them to my order.