SmoothCote™ FiberRod Posts (1/2 in. dia.)
(6) Read reviews »
Use for temporary fences where stronger posts are needed or in electrified netting at corners and ends.
For many fence situations 3/8" dia. rods are too flexible. For those situations use rods that are 1/2" dia. They're so much stronger and stiffer.
Use a ScrewOn Rope/Tape Insulator with the post to hold twine, rope and narrow tape.
Don't forget the drive caps! Prevent hammer damage to tops of posts by placing a protective drive cap on top of the post during installation. One drive cap lasts through years of uses and many posts.
Data
---
Common Uses
Use where a stronger post is needed on a temporary fence or in electrified netting at corners and ends. Better for slight curves than a 3/8" rod.
---
Specs
White in color
1/2" diameter
Lengths: 4, 5, or 6 ft
Urethane-coated
Pencil-pointed
Drive Caps (sold separately)
---
Benefits
Premier's SmoothCote FiberRods have a urethane coating to prevent fiberglass splinters from developing. (If you have not experienced these splinters, they're very painful as well as hard to spot.)
---
Accessories
Listed below are recommended optional components or related items. Your particular situation may require alternative recommendations. Please call and talk to our consultants if there are any questions at 800-282-6631.
Conductors - Rope-Twine-Wire-Tape

Highly visible polyester electric fence conductor with excellent conductivity over long distances. 6mm (1/4") diameter. 25 years probable life.

Posts and Accessories

Place over the top of fiberglass posts prior to insertion. Reduces damage and increases the lifespan of the post.

Insulators

For holding rope, twine and narrow tape onto portable electric fence posts.
Reviews

(6)
Write a Review
You must be logged in to leave a review. Please sign in.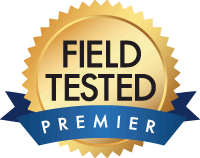 We like that this rod is thicker than the 3/8" post, which allows it to handle corners and curves better. It is much stiffer than the 3/8" post, too. (Amazing what 1/8" difference can make.)
SmoothCote™ FiberRod Posts (1/2 in. dia.)
John H from Wisconsin
These 6' FiberRods are perfect for lifting my 48" poultry net in between posts to follow the changing contour of my hilly 50'x100' peach/cherry orchard. I need the poultry net electric density to deter pesky raccoons which show up when the peaches near ripening.
SmoothCote™ FiberRod Posts (1/2 in. dia.)
Armen J from Massachusetts
Used them for my garden electric fence. They worked out but I wish they were more rigid.
SmoothCote™ FiberRod Posts (1/2 in. dia.)
Troy M from Mississippi
Great support rods for my electric fence. Very flexible and rigid at the same time.
SmoothCote™ FiberRod Posts (1/2 in. dia.)
Sedgewood P from Mississippi
Good quality.
SmoothCote™ FiberRod Posts (1/2 in. dia.)
Phillip E from Colorado
The FiberRods were exactly what I needed. The rods are coated with a protective coating to reduce fiberglass fraying, and it makes it easy to handle the rods without gloves. The 1/2 inch rods have some flex, but are the perfect stiffness for my needs. Premier 1 processed and shipped the order quickly, and I received the rods within a few days.