IntelliBraid® 6.0
(10) Read reviews »
Long lasting, 6mm (1/4") dia. braided rope conductor for permanent electric fences.
Tinned copper filaments (2) run along the inner core. First-quality braided polyester and 12 stainless steel filaments provide support. This method reduces the stress on the copper filament, increases strand strength and provides more metal-to-metal and metal-to-animal contact points throughout.
Which conductor is right for you?
We offer a wide-range of electrifiable ropes, twines and tapes to fit your situation. Visit this link to compare all Premier conductors.
Videos & Data
---
Benefits
Excellent for all permanent electrified rope fences.
Polyester, the same plastic filaments as in EnduraSoft® 6.0, is noted for its strength, soft feel and inherently high resistance to UV light degradation.
Black/white alternating color increases effectiveness by offering contrast to animals against both light and dark backgrounds.
IntelliBraid® 6.0 can be pre-wound onto an EzeReel XL (Spool Only) or EzeReel XL (Complete).
---
Specs
IntelliBraid® 6.0
Size
6mm (1/4") diameter
Color
White / Black / White
Conductivity
48 Ω per 1000 ft
Conductive Filaments
2 tinned copper + 12 stainless steel
Non-conductive Filaments
Polyester (PES)
Visibility to Animals
Good
Mildew Resistance
Fair
Ultraviolet (UV) Resistance
Excellent
Breaking Strength
1800 lbs
Probable Lifespan*
25 years
* Probable life is not a warranty by Premier. Why not? Because we know that longevity is highly dependent upon, but not limited to, quality of installation, insulator(s) used, rope tension, animal/wind/snow/ice/vegetation pressure and UV exposure (altitude and climate).
---
Cost
Approximate cost: 17¢ per foot
---
Installation
Attach a terminal insulator to an end post.
Tie end of rope to terminal insulator.
Unroll rope along the fence line.
Insert line posts.
Insert rope in the line posts at the right height(s) for your animals. (See recommendations below.)
Attach insulators (preferably notched PI 21n) to corner and end posts.
Tie rope to terminal insulator and spring at far end post. By hand, pull it tight enough to eliminate sagging between posts. Tie off by hand, or use a RopeLink. (Note: If the run of the fence is 1000' or more, use a P Spring at both ends of the fence instead of 1 end.)
Use a wind-up reel system to rewind and store rope.
Install and connect a fence energizer to a grounding system. Turn on energizer and confirm voltage is at least 3000V at the end of the fence line.
Suggested Strand Height
(from ground)

:
For Sheep:

3-strand fence—35", 24", 12"
5-strand fence—36", 27", 20", 13", 7"

For Cattle:

1-strand fence—34"
2-strand fence—34", 22"
3-strand fence—40", 27", 15"

For Horses:

2-strand fence—46", 24"
5-strand fence—60", 48", 36", 24", 12"

For Gardens:

2-strand fence—15", 6"

For Deer:

2-strand fence—48", 30"
5-strand fence—50", 40", 30", 20", 10"
3D anti-deer fence—inside: 48", 18"; outside: 34"
---
Precautions
When cutting the rope to length, lightly burn the ends with a lighter or match to avoid unraveling.
Accessories
Listed below are recommended optional components. Your particular situation may require alternative recommendations. Please call and talk to our fence consultants if there are any questions at 800-282-6631.
Reviews

(10)
Write a Review
You must be logged in to leave a review. Please sign in.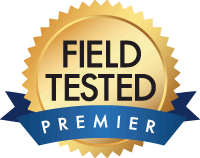 A very thick/heavy duty conductor. Lasts for years—we've never had a problem with it. We've been impressed with how tightly wound and rigid it is. IntelliBraid doesn't "stretch" like other conductors, so re-tensioning is not necessary. We've been using it in our horse pasture on our home farm.
IntelliBraid® 6.0
Brandi R from Michigan
I absolutely love this stuff and have bought several rolls. We have 50 horses and I've been slowly replacing all of our electric wire, and building new pastures. The last roll I ordered did have a slight defect and there was a kink throughout the whole roll. It doesn't seem to affect the conductivity of the wire, but doesn't look nearly as nice as the rest. The other rolls have been fine.
IntelliBraid® 6.0
Brandi R from Upper Michigan
Excellent fence to work with, no gloves necessary! Super easy to install and looks so nice. Highly recommend.
IntelliBraid® 6.0
Tammy C from Oklahoma
I have been using IntelliBraid for my permanent fencing for more than 8 years now. I began using it after I saw what great results my friend a horse trainer had with it on her place. It is cost effective, safe and works great for my horses and cattle. I have never had an animal injured or one escape. I have set it up with 5 strands one of which is about 8 inches off the ground and even my dogs stay in!

Premier 1 is super helpful with installation advice and helpful hints. It is a great product!
IntelliBraid® 6.0
Mary Jo L from Pennsylvania
I have had IntelliBraid up for at least 12 years, still works and looks great. Initial cost is a bit higher than others but you don't have to replace it! IntelliBraid is worth every penny.
IntelliBraid® 6.0
Joshua B from Missouri
Bought this back in Feb 2016, we put up 3 lines to keep in Scottish Highland cattle. This was the easiest fence I ever put up in my life, the cows haven't gotten out even once, they don't even test it. The rope looks as good as the day I put it up and it's ridiculously easy to maintain. The only downside is the price, but it's still cheaper than wire fence and laughable easy to put up... no tractor, no fence stretcher, all it took was a couple hand tools. I paid Premier 1 for the fence and feel like I owe them a favor!