Trusti Tuber
(24) Read reviews »
Get needed nutrition immediately into newborns, with this stomach tuber specifically designed for use with lambs and kids.
Advantages
One handed operation
Easy clean design and material
Specialized tube tip prevents airway insertion
Safety indicator strips so the shepherd knows when the tube is safely in position
Milk directly into the vial from the ewe/nanny without losing precious contents
Data
---
Benefits
Stable base – allows you to pre-fill the vial
Eye-catching color makes it easy to find
Flexible gentle tube, but not so soft it could coil in the throat
Hole at tube end, not the side – good flow and allows cleaning of the whole tube
Gravity flow – not pressurized, safer and easy to control
---
Specs
5-1/2"H
2" diameter
19-1/2" transparent tube (see the milk flow and see when clean)
8 oz capacity (one large or two smaller feeds without refilling)
Tube clip – Holds the tube off the ground, hygienic and handy
Tube material avoids cracking
---
How to Use
Gently pass the tube into the esophagus, until the safety indicators are within the mouth.
Raise vial. Ensure head and neck remain above the stomach and ensure the tube stays in position.
Shepherd's Choice® Management Tip
Producers should
NOT
tube lambs that cannot hold their heads upright. In most cases these are hypothermic lambs. They need glucose (IP) and warming first. Once the animal has been revived and can hold its head up, then you can use the various stomach tube devices to deliver nourishment.
---
Precautions
Read all warnings and cautions on label. For livestock use only.
Reviews

(24)
Write a Review
You must be logged in to leave a review. Please sign in.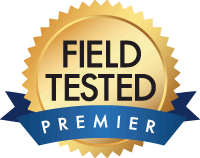 Our shepherds love this milker for its ease of use. Specifically its wide opening. The handles are conveniently placed so milking into the container is comfortable while reducing spilled milk. The markings on the tube are an asset—no more guess work as to when the tube is properly inserted.
Trusti Tuber
Barry B from Indiana
Used for the first time this 2019 lambing season. Significant improvement over a clear tube and 5 oz syringe that I have used for 20 years. You can milk directly into the container and easily see the quantity of milk by ounce. The finger mount on the container give nice hand control, and the tube slips into the lamb much easier. Vast improvement! Visit the manufacturer's website for a 2 minute video that reinforces what you may already know.
Trusti Tuber
Cheatgrass A from Idaho
This is fabulous. Although I've been tubing lambs for over 25 years, it terrifies me. This is easy and secure. It also holds more than the 3 oz syringe! Easy to clean and easy to use. This ensures I get the right stuff down every lamb the right way! I'm ordering more!
Trusti Tuber
Monica H from Idaho
Not easy to use by one person. The cup is large, even with the finger "holds" it's cumbersome. Unless it's full of milk it drains slow, not great if the ewe doesn't have much milk. It's difficult to get the last bit of milk into the tube without tipping it sideways. I prefer the syringe style with the tube at the bottom.
Trusti Tuber
Rebekah D from Minnesota
I bought this tuber and I'm so impreseed it's a life saver quite literally. Had a ewe go down with toxemia and this tuber has got all the water and molasses down. Bought 1 now I'm back for 2 more.