Twist Butler
Write a review »
New! A clever reel system for rolling up and unwinding electric nets. The Twist Butler helps you install or store netting quickly and easily—without an extra set of hands!
Benefits:
Fits one roll of netting (up to 164')
Two heights available: for 42" and 48" tall nets
Quick to wind and unwind
Tangle-free compact storage
Removable crank handle for use across multiple spools
For folks that struggle with taller nets, or for those that don't move their fences often, the Twist Butler is a convenient alternative to the tried-and-true "fold and then roll" method.
Videos & Data
---
Common Uses
For setting up fences in small paddocks (1–2 rolls of netting)
As a backyard helper for poultry runs
Prevents tangles; plastic base keeps spikes organized
For easier handling in brushy, brambly areas
---
Specs
Fits most rolls of electric netting (up to 164')
12" dia, HDPE plastic base
Removable handle
0.8" dia aluminum shaft
Two heights available:

Twist Butler, for 42" nets: 51" tall
Twist Butler, for 48" nets: 58" tall
---
Common Questions
I'm a professional livestock grazier, is the Twist Butler for me?

No. The Twist Butler is a backyard tool for those new to electric net fences. It's best when fencing small paddocks or for those who move their fences infrequently.
Reviews
Write a Review
You must be logged in to leave a review. Please sign in.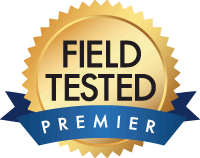 Not many products have been as polarizing for our field testers as the Twist Butler.
We've long recommended the
"fold and then roll"
method when moving nets. It requires no tools, and rolls end up much like they began—with all the posts on outside and the folds of net rolled up inside.
But we also know many folks use only one or two rolls. E.g. backyard poultry keepers who don't often move their runs and are using taller, more cumbersome nets (42"–48"). For this, the Twist Butler offers a small convenience. It's a clever way to wind-up the netting while keeping the spikes organized to reduce tangling.
For folks moving nets daily or weekly, you're likely to find the Twist Butler more trouble than it's worth.