ARS 140DXR Hoof Trimmers
(126) Read reviews »
Regarded as the gold standard tool for trimming goat and sheep hooves. Also a multi-purpose hand shears for pruning flowers and shrubs.
Choice of smooth or serrated blades. Comfortable handles for left and right handed users.
Videos & Data
---
Benefits
Both ARS trimmers slice through hooves easily.
Comfortable handles. Our left hand users rave about these trimmers.
Cutting stroke is ultra-smooth.
Steel blades truly hold an edge.
Gently rounded tips make cleaning manure from hooves without risk of injury to you or the animal.
---
Specs
7.5"L
Blades: 1-3/4"L, Handles: 3.5"L (approximate size)
Sturdy plastic handle
Smaller than our Premier's Serrated Foot Trimmer
Secure locking system
Japanese steel and rounded blade tips
The

ARS 140 DXR Serrated Trimmer

has a serrated blade (top side only) for improved cutting. Serrated blades slice through hard hoof horn without slippage. Improves efficiency and safety.
Accessories
Listed below are recommended optional components or related items. Your particular situation may require alternative recommendations. Please call and talk to our consultants if there are any questions at 800-282-6631.
Reviews

(126)
Write a Review
You must be logged in to leave a review. Please sign in.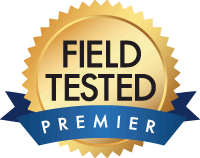 The Serrated ARS Hoof Trimmers have become our favorite trimming shears. They're easy on our hands, agile and sharp. The serrated blade grips the hoof to prevent the trimmers from sliding off while you're cutting. Safety catch is very sensitive, if the trimmers are closed and are bumped or dropped they will open.
ARS 140DXR Hoof Trimmers
Sharon R from Oregon
I'm really disturbed by this picture of this goat, and hope I'm wrong! Someone please tell me this goat isn't being abused. And how does his front leg bend like that under his head?
The sheep (hair breed) in the third photo is being immobilized with a
Gambrel Restrainer
. This is a common restraint that securely holds the front legs alongside the neck and prevents the animal from raising its head. This allows the shepherd to safely trim hooves, tag ears, etc.
Any livestock restraint may cause some degree of stress, but they do not cause pain to the sheep when used properly.
— Premier
ARS 140DXR Hoof Trimmers
Theron R from Georgia
My wife loved these for the hoofs of our goats. They did much better than what she was using. Cost a little more, but worth it.
ARS 140DXR Hoof Trimmers
Mary Jo W from Ohio
These trimmers are the sharpest I've ever had. Cuts thru the toughest hooves like butter. Don't waste your money on any other kind or brands.
ARS 140DXR Hoof Trimmers
Stacy B from Massachusetts
Not that I have anything to compare it with, as I am a new goat owner, but when I trimmed my kids for the first time, these worked like a charm. I figured since I would need to do their feet often, I wanted to get the best tool... seems I chose correctly!
ARS 140DXR Hoof Trimmers
Brian H from North Carolina
Awesome hoof trimmers! I have tried several different brands of hoof trimmers and can barely get them through the hoof because I lack in the hand strength needed to cut the hoof. These trimmers allow me to cut through the hoof with ease, no additional hand strength needed!