ARS 140DXR Hoof Trimmers
(90) Read reviews »
Regarded as the gold standard tool for trimming goat and sheep hooves.
Choice of smooth or serrated blades. Comfortable handles for left and right handed users.
Videos & Data
---
Common Uses
Trimming hooves on sheep and goats.
Multi-purpose hand shears for pruning flowers and shrubs.
---
Specs
7.5"L
Approximate Sizes: Blades: 1-3/4"L, Handles: 3.5"L
Sturdy plastic handle
Smaller than our Serrated Foot Trimmer
Secure locking system
Japanese steel and rounded blade tips
Note: ARS 140 DXR Serrated Trimmer has a serrated blade (top side only) for improved cutting. Serrated blades slice through hard hoof horn without slippage. Improves efficiency and safety.
---
Benefits
Both ARS trimmers slice through hooves easily.
Comfortable handles. Our left hand users rave about these trimmers.
Cutting stroke is ultra-smooth.
Steel blades truly hold an edge.
Gently rounded tips make cleaning manure from hooves without risk of injury to you or the animal.
Accessories
Listed below are recommended optional components or related items. Your particular situation may require alternative recommendations. Please call and talk to our consultants if there are any questions at 800-282-6631.
Reviews

(90)
Write a Review
You must be logged in to leave a review. Please sign in.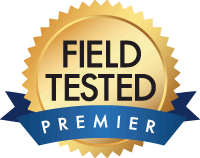 The Serrated ARS Hoof Trimmers have become our favorite trimming shears. They're easy on our hands, agile and sharp. The serrated blade grips the hoof to prevent the trimmers from sliding off while you're cutting. Safety catch is very sensitive, if the trimmers are closed and are bumped or dropped they will open.
ARS 140DXR Hoof Trimmers
Peggy S from Oregon
I very happy with these trimmers. It made trimming my goats feet faster and cleaner then regular clippers. My goats were happy to have the task done quickly.
ARS 140DXR Hoof Trimmers
Angela B from Massachusetts
These are absolutely the best hoof trimmers out there. We have bought every other kind, from super-cheap ones that we used for a couple of months and threw away when dull, to a $300+ electric hoof knife, which has proven impractical and sits unused. These are easy on the hands (no blisters, secure grip, good angle), and don't slip, even on tough hooves. So far they have stayed sharp, and make the dreaded task of ram and buck hoof trimming so much easier. Great product, Premier 1!
ARS 140DXR Hoof Trimmers
Arnie B from South Dakota
Was sharp n cut good after about 35 hrs. Hand got sore but better than anything else I have used.
ARS 140DXR Hoof Trimmers
Linda S from Virginia
I bought these when my original trimmers broke. They are really sharp and handle hard hoof well, but I find the blades just a little short and with the smooth handles (no finger-ridges) somewhat slippery and hard to hold with my admittedly small hands.
ARS 140DXR Hoof Trimmers
Addie S from Texas
We have used many cheaper hoof trimmers. I purchased a set of the ARS trimmers. Will never buy anything again but this brand. Nice wieght, sharp, well balanced. Excellent product.