ARS 140DXR Hoof Trimmers
(63) Read reviews »
Regarded as the gold standard tool for trimming goat and sheep hooves.
Choice of smooth or serrated blades. Comfortable handles for left and right handed users.
Videos & Data
---
Common Uses
Trimming hooves on sheep and goats.
Multi-purpose hand shears for pruning flowers and shrubs.
---
Specs
Japanese steel blades are 1 3/4" long
The sturdy plastic handle measures 3.5" in length
Smaller than our Serrated Foot Trimmer
Secure locking system
Rounded blade tips
Note: ARS 140 DXR Serrated Trimmer has a serrated blade (top side only) for improved cutting. Serrated blades slice through hard hoof horn without slippage. Improves efficiency and safety.
---
Benefits
Both ARS trimmers slice through hooves easily.
Comfortable handles. Our left hand users rave about these trimmers.
Cutting stroke is ultra-smooth.
Steel blades truly hold an edge.
Gently rounded tips make cleaning manure from hooves without risk of injury to you or the animal.
Accessories
Listed below are recommended optional components or related items. Your particular situation may require alternative recommendations. Please call and talk to our consultants if there are any questions at 800-282-6631.
Reviews

(63)
Write a Review
You must be logged in to leave a review. Please sign in.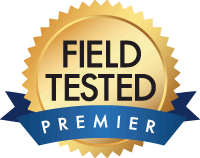 The Serrated ARS Hoof Trimmers have become our favorite trimming shears. They're easy on our hands, agile and sharp. The serrated blade grips the hoof to prevent the trimmers from sliding off while you're cutting. Safety catch is very sensitive, if the trimmers are closed and are bumped or dropped they will open.
ARS 140DXR Hoof Trimmers
Jamie B from OH
I absolutely love these trimmers. This is a purchase I'll be glad I made every time I use them. These are a time saving, must have item!!
ARS 140DXR Hoof Trimmers
Scott K from Idaho
I've only used these on my goats once but love them already. Will have to see how well they hold up over time and how sharp they stay. But, so far, they seem like a great product. Very fast service and shipping so thank you for that!
ARS 140DXR Hoof Trimmers
Richard B from idaho
Worked pretty good on real hard hooves.
ARS 140DXR Hoof Trimmers
Hannah T from OR
These trimmers are the best we have ever used for trimming our goats' hooves! Highly recommend this product!
ARS 140DXR Hoof Trimmers
Norman R from Washington
Used these trimmers on our lambs. They were perfect for their small feet. The trimmers are small enough, and very sharp. Makes trimming very easy, with very little force necessary to cut the hoof.