ARS 140DXR Hoof Trimmers
(83) Read reviews »
Regarded as the gold standard tool for trimming goat and sheep hooves.
Choice of smooth or serrated blades. Comfortable handles for left and right handed users.
Videos & Data
---
Common Uses
Trimming hooves on sheep and goats.
Multi-purpose hand shears for pruning flowers and shrubs.
---
Specs
7.5"L
Approximate Sizes: Blades: 1-3/4"L, Handles: 3.5"L
Sturdy plastic handle
Smaller than our Serrated Foot Trimmer
Secure locking system
Japanese steel and rounded blade tips
Note: ARS 140 DXR Serrated Trimmer has a serrated blade (top side only) for improved cutting. Serrated blades slice through hard hoof horn without slippage. Improves efficiency and safety.
---
Benefits
Both ARS trimmers slice through hooves easily.
Comfortable handles. Our left hand users rave about these trimmers.
Cutting stroke is ultra-smooth.
Steel blades truly hold an edge.
Gently rounded tips make cleaning manure from hooves without risk of injury to you or the animal.
Accessories
Listed below are recommended optional components or related items. Your particular situation may require alternative recommendations. Please call and talk to our consultants if there are any questions at 800-282-6631.
Reviews

(83)
Write a Review
You must be logged in to leave a review. Please sign in.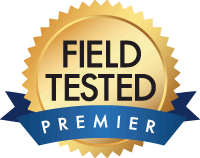 The Serrated ARS Hoof Trimmers have become our favorite trimming shears. They're easy on our hands, agile and sharp. The serrated blade grips the hoof to prevent the trimmers from sliding off while you're cutting. Safety catch is very sensitive, if the trimmers are closed and are bumped or dropped they will open.
ARS 140DXR Hoof Trimmers
Karissa S from Washington
I don't know why I didn't buy these sooner. I was about ready to sell our Saanen because trimming her thick hoovers had become such a bear. These allowed my small hands to quickly trim all four hooves. Quick is key for her because she has weak pasterns and can't do without one food for more than a minute or so. So thankful to have found these!
ARS 140DXR Hoof Trimmers
Anna R from Vancouver Island, BC
We have been trimming our goat's hooves with rose cutters, because they are small enough to be comfortable to handle, but they leave something to be desired in the sharpness area. We finally bit the bullet and bought the above trimmers - WOW! What a difference! Very sweet to use, manageable size and very sharp, with a secure grip. We will likely be investing in another pair soon. Well worth the cost!
ARS 140DXR Hoof Trimmers
Gail S from Minnesota
Best ever used, well worth the buy.
ARS 140DXR Hoof Trimmers
Gail L from Texas
I have to say, I have finally found a good pair of trimmers.

The ARS 140 DXR Serrated Trimmer are just a dream to use. So smooth cutting, no sliding around on the hoof when trying to trim. More than twice the price I have paid for others, but so worth it. Why did I not find these before now. Well worth the price.

I have spent lots of money on the $15. to $18 trimmers and each time I was ready use them I would go out and buy a new pair and they wouldn't work right either. I have probably spend over $150 on useless trimmers.

So glad to have these now. Thank you!
ARS 140DXR Hoof Trimmers
Joy V from Wisconsin
These clippers are awesome. I had spent good money on a handful of nail trimmers for my goats and they all broke within the first couple of uses. I finally found some that really work! Thank you! They are so sharp and very well made... not the cheap ones bought at the big farm stores. Love these trimmers and would highly recommend them!