ChickBox™
(27) Read reviews »
Innovative injection molded chicken nest box is draft free, but ventilated to keep the hens warm in winter and cool in summer.
Videos & Data
---
Common Uses
Replaces wood, metal and plastic nesting boxes. Our hens love this nesting box. (They prefer it over our other nesting boxes.) Roll-out tray prevents hens from eating the eggs.
---
Specs
Colors available: yellow or brown
Box: 12"L x 12.5"W x 15"H (approx size)
Perch: 12"L x 9"W (approx size)
Roll Out Tray: 4"L x 12.5"W (17.5"L complete tray) | Flap: 5.25"L x 11"W (approx size)
The perch assembly easily slides out, providing full access to clean the ChickBox
May be washed or hosed down for cleaning
Roll Out Tray (described below)
Manufactured with Natural Polypropylene Impact Copolymer that complies with FDA food additive regulation 21CFR177.1520(c)3.1a.
---
Benefits
Easy to clean.
Will not rot or rust like metal or wood laying boxes.
Since it's injection molded, there are no cracks or crevices for poultry mites (red mites) to hide.
Fold-up perch is nifty front perch folds up to keep broody hens out at night. Perch also allows droppings to fall clear of the nesting area.
The roll-out nest tray is optional. Speeds egg collection. Eggs stay clean (no droppings on them) and safe from pecking. Improves hygiene and speeds up egg collection. Keeps eggs cleaner as they roll away after being laid. Flap prevents any egg pecking or soiling.
Interlocking system allows multiple boxes snap together with locking side tabs.
Made of plastic—safer and easier to clean. Unlike metal it won't rust and has no sharp edges. And unlike wood there are no splinters and it doesn't harbor mites. Can be easily hosed down with water and disinfectant for cleaning.
---
How to Use
Watch the assembly video and follow the printable instructions listed above.
---
Tips
Hens refusing to use the roll-out tray?
Add bedding. Once hens are accustomed to using the box, gradually remove bedding.
Use ceramic nest eggs to encourage hens to lay in a specific area.
Wooden nest eggs discourages egg eating.
Accessories
Listed below are recommended optional components or related items. Your particular situation may require alternative recommendations. Please call and talk to our consultants if there are any questions at 800-282-6631.
Equipment

Encourages hens to lay eggs in their nesting boxes rather than elsewhere on the farm.

Poultry Supplies

Attractive nest egg that discourages egg eating. Won't break when dropped like ceramic eggs.
Reviews

(27)
Write a Review
You must be logged in to leave a review. Please sign in.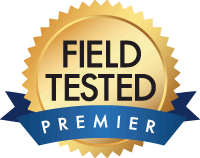 We found these to be easy to assemble and install into our coop. Just the right amount of bedding is needed with the roll out tray. Too much bedding will prevent the eggs from rolling into the tray, if there is too little bedding the hens may not choose to lay in the box. To prevent roosting, we installed a slanted board above the ChickBox.
ChickBox™
Vicki H from Wisconsin
I purchased two of these and have been using them for a week. I have 12 hens and they took to them right away. I purchased them due to an egg eating problem. There is still an occasional eaten egg. I have seen eggs that don't roll into the tray right away so they must be able to get to some of them. The vast majority of the eggs are in the trays and very clean when I collect them after getting home from work. I really like the fold up perch that keeps the hens from roosting in them at night. This is a well designed and well constructed product. I am planning to buy more for the moveable pen I used in the summer.
ChickBox™
Josh U from Ohio
I had canibal hens so i gave this tray a try. From day one it has worked perfectly. I now have 6 clean unbroken eggs every day. I just dropped this tray in my existing laying box and put one screw in the top to keep it from moving. Fixied my problem from day one.
ChickBox™
Helen W from California
We, too, had a problem with one of our chickens eatting the other's eggs. The tray has worked well. And the eggs don't crack when they hit the floor as it is a softer plastic. I also think the vented bottom will help with my broddy hen. The boxes are still fairly new so some of the hens aren't laying in the boxes yet. They look quite different than the wooden ones we had before. They are choosing to lay on the ground in their pen instead. Hopefully, they'll get the idea soon. But, the boxes work great for those adventurous hens who use them.
ChickBox™
tommy b from Missouri
to start off i should have walked out the the chicken pin with camrea ready, cause you wouldnot believe , two hens in the boxes 1 on each perch with other 2 hens crakleing so yes they do work hens love em and wife likes it becasue the eggs are clean sitting in the tray
ChickBox™
David T from Illinois
My egg production went from 6-7 eggs per day to 0-1 a day due to hens eating them. Old boxes were milk crates next to the floor. My new Chickboxes have brought my production back up to 5-6 eggs per day. In 10 days of use so far I think only two eggs have been eaten. Very worthy product.