IntelliRope® PE 4.5
(23) Read reviews »
Excellent for both permanent and portable situations because PE filaments resist wear and abrasion. Excellent built-in elasticity. This 4.5mm version is less weight, lower cost and better for short-term fences.
Identical to IntelliRope® PE 6.0 except it has fewer polyethylene (PE) monofilaments.
Which conductor is right for you?
We offer a wide-range of electrifiable ropes, twines and tapes to fit your situation. Visit this link to compare all Premier conductors.
Videos & Data
---
Common Uses
Use for temporary and permanent electric fences for all livestock.
---
Specs
10 years probable life*
Use for: Permanent & portable fences
Color: White/black/white
Size: 4.5mm (3/16") diameter
Portability: Very good
Conductivity: 41 ohms per 1000 ft (lower number is better and more conductive)
Ability to carry a charge: Very good
Type of conductive filaments: Tinned copper & stainless steel—makes this 400 times more conductive than stainless steel polywires
Number of conductive filaments: 3 tinned copper & 3 stainless steel
Ability to be seen by animals: Good
Type of non-conductive filaments: Polyethylene
Ability to resist mildew: Very good
Breaking strength: 750 lbs
---
Benefits
Can be pre-wound onto an:
Good for all sites but particularly for humid climates because polyethylene resists mildew the best. Excellent built-in elasticity.
---
Cost
Approximate cost per ft is 6¢
---
Installation
Attach a terminal insulator to end post.
Tie end of the rope to terminal insulator.
Unroll rope along the fence line. (Using Premier's reels makes this easier.)
Insert line posts.
Insert rope in the line posts at the right height(s) for your animals.
Attach insulators (preferably Notched PI 21n) to corner and end posts.
Tie rope to terminal insulator and spring at far end post. By hand, pull it tight enough to eliminate sagging between posts. Tie off by hand, or use a RopeLink
Use one of our reels to rewind and store rope. EzeReels™ can be set on the ground next to fence. MiniReels™ are best hung from the fence.
Install and connect energizer to a ground rod and the fence. Turn on energizer. Check to make sure voltage is over 2000V.
Suggested Height:
For Sheep:

3-strand fence—35", 24", 12"
5-strand fence—36", 27", 20", 13", 7"

For Cattle:

3-strand fence—40", 27", 15"
2-strand fence—34", 22"
1-strand fence—34"

For Horses:

2-strand fence—48", 24"

For Gardens:

2-strand fence—15", 6"
---
Precautions
If cutting the rope, lightly burn the ends with a lighter or match to avoid unraveling.
*Probable life is not a warranty by Premier. Why not? Because we know that longevity is highly dependent upon, but not limited to, quality of installation, insulator(s) used, rope tension, animal/wind/snow/ice/vegetation pressure and UV exposure (altitude and climate).
Accessories
Listed below are recommended optional components. Your particular situation may require alternative recommendations. Please call and talk to our fence consultants if there are any questions at 800-282-6631.
Reviews

(23)
Write a Review
You must be logged in to leave a review. Please sign in.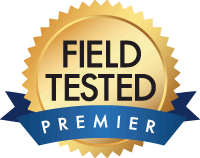 This has become the main conductor used on our farms. Much more visible than standard electric wire and easier to install (doesn't try to "re-wind" itself). Last winter became caught in the fence (as evidenced by the hair left behind) and it broke the rope (a rare occurrence). We were able to mend the break by simply using a RopeLink 2.0. If you're fencing specifically for horses use the 6mm ( 6mm Rope, EnduraSoft, IntelliBraid) or tape conductors.
IntelliRope® PE 4.5
Pandora S from North Carolina
This is the the best rope. I have this product that has been in use for eight years and it still carries its charge.
IntelliRope® PE 4.5
Kathryn P from Texas
Super easy to use. We strapped the Eze Reel to the tailgate of our Ranger and unroll and rewind the IntelliRope easily. Love the IntelliRope!
IntelliRope® PE 4.5
Ginger S from Michigan
I use this fence for rotational grazing cattle, dairy & meat goats and feeder hogs. The rope is visible, durable and conducts well. It is easy to re-spool. (I use garden hose carts which are lightweight and easy to roll around.) I find it doesn't stretch much once I get it pulled tight. I've started using the springs and connectors from this company and in combination — works really well. We have switched over all of our line over the last 3 years and I am quite happy. Worth the price since it holds up well, even where I have it up year round.
IntelliRope® PE 4.5
Robert B from Illinois
Worked great.
IntelliRope® PE 4.5
Cheryl & John V from Illinois
Intellirope is very easy to use. We can put up a fence in about a third of the time it used to take us. Once the cows/calves see the rope they respect the perimeter.

Premier is an excellent supplier our orders usually arrives within one day of ordering. We get all of our fencing supplies from Premier.