IntelliTwine™ 2.25
(19) Read reviews »
Very conductive and visible polywire. Excellent for portable fences for cattle and sheep.
Videos & Data
---
Common Uses
Excellent for portable fences for cattle and sheep.
---
Specs
5 years probable life*
Use for: Portable fences
Color: White/black/white
Size: 2.25mm (12g/.09") diameter
Portability: Excellent
Conductivity: 41 ohms per 1000 ft (lower number is better and more conductive)
Ability to carry a charge: Very good
Type of conductive filaments: Tinned copper & stainless steel—makes this 400 times more conductive than stainless steel polywires
Number of conductive filaments: 3 tinned copper & 3 stainless steel
Ability to be seen by animals: Fair
Type of non-conductive filaments: Polyethylene
Ability to resist mildew: Very good
Breaking strength: 240 lbs
---
Benefits
Can be easily pre-wound onto an:
Excellent elasticity­—space posts up to 35 ft.
Small diameter enables reels to hold 2000 ft.
---
Cost
Approximate cost per ft 3¢
---
Installation
Attach a terminal insulator to end post.
Tie end of twine to terminal insulator.
Unroll twine along the fence line. (Using Premier's reels makes this easier.)
Insert line posts.
Insert twine in line posts at the right height(s) for your animals (see below).
Attach insulators (preferably the Notched PI 21n to corner and end posts.
Tie twine to terminal insulator at far end post. By hand, pull it tight enough to eliminate sagging between posts. Tie off by hand, or leave it on the reel and attach to end post.
Use one of our reels to rewind and store twine. EzeReels™ can be set on the ground next to fence. MiniReels™ are best hung from the fence.
Install and connect energizer to a ground rod and the fence. Turn on energizer. Check to make sure voltage is over 2000V.
Suggested Height:
For Sheep:

3-strand fence—35", 24", 12"
5-strand fence—36", 27", 20", 13", 7"

For Cattle:

3-strand fence—40", 27", 15"
2-strand fence—34", 22"
1-strand fence—34"

For Horses:

2-strand fence—48", 24"

For Gardens:

2-strand fence—15", 6"
---
Precautions
If cutting the twine, lightly burn the ends with a lighter or match to avoid unraveling.
*Probable life is not a warranty by Premier. Why not? Because we know that longevity is highly dependent upon, but not limited to, quality of installation, insulator(s) used, rope tension, animal/wind/snow/ice/vegetation pressure and UV exposure (altitude and climate).
Accessories
Listed below are recommended optional components. Your particular situation may require alternative recommendations. Please call and talk to our fence consultants if there are any questions at 800-282-6631.
Reviews

(19)
Write a Review
You must be logged in to leave a review. Please sign in.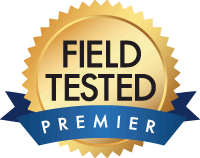 Lightweight and easy to use in a portable and temporary fencing system. We would not use this for a permanent fencing situation as it lacks longevity (only 5 years of probable life) and thinner than our other conductors, thus it is very portable.
IntelliTwine™ 2.25
Robert K from Texas
I can't believe this simple twine will stop the cows from coming up to my pool to drink. But it does!! They will stand there looking longingly at the pool but not come any closer than a couple yards. And it is so easy to install. I was concerned that I would have difficulty installing an electric fence, since I knew absolutely nothing about it, but this was a breeze. Had it up and working in just a matter of hours. What I like most is you can hardly see the twine. If it were not for the standards (I used fiber rods) you would not be able to see it from a distance. My neighbor, who has a fence with solid wire, saw mine and immediately asked where I had got it so he could change his (which is pretty ugly).
IntelliTwine™ 2.25
K H from Colorado
I installed this almost nine years ago, for a semi-permanent fence. I only use one strand to keep my horses where I want them. They break it from time to time when our sandy ground gets dry and they don't get enough of a shock, but the fact that it does break also makes it safe if one gets tangled up (rare). I just repair it by tying the ends with a square knot. So after nine years, rather than the predicted five, I'm thinking it's time to replace it, but even with all the knots, it's still working!
IntelliTwine™ 2.25
Larry B from Minnesota
Still by far the most user friendly portable fencing made when used with reels and step in posts.
IntelliTwine™ 2.25
Robert M
Excellent product and very durable. I use it for strip grazing sheep and it is very portable. Product is much better (more durable and lighter) than similar wire purchased from my feed store. Step-in posts can be spaced at +/- 50' without much sagging.
IntelliTwine™ 2.25
Jessica B
My second time ordering this. Works very well and is light weight so doesn't sag too much between posts.