Premier Hot Top Insulator
(8) Read reviews »
This insulator combines strength, safety and appearance. It covers the sharp-edged top of steel T posts and holds rope, braid, twine, wire and 1/2" tape.
It can also be used as a cover for tops of steel T posts anywhere along fence line to help protect injury risk to livestock or horses. Will fit on T posts facing either way.
Data
---
Benefits
All sharp edges of the topper have been rounded to reduce the risk of injury.
---
Specs
2"W x 3"H
Plastic, UV resistant
Fits all sizes of steel T posts
10 per package, but sold individually
---
How to Use
Line up the grooves on inside of insulator with top of T post
Tap the insulator down into place
If using a conductor, thread conductor through hole
Accessories
Listed below are recommended optional components or related items. Your particular situation may require alternative recommendations. Please call and talk to our consultants if there are any questions at 800-282-6631.
Reviews

(8)
Write a Review
You must be logged in to leave a review. Please sign in.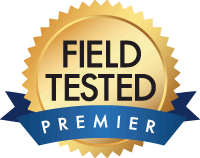 Takes a few seconds to line the internal guides over the T-Post but that is the only hassle with this insulator. T-Posts vary in size to the top may fit on with ease or it might require an extra push with wider posts. We like that the nifty top allows you to squeeze an extra conductor onto the post. used these on our horse fences
Premier Hot Top Insulator
James B from Wisconsin
Needed to replace 25+ year old T-post caps. Old caps held fence wire/tape off to one side but are no longer made by manufacturer. These Premier T-post caps are the only ones I found that will hold fence wire/tape. I ordered a supply of both black and white. They are exactly as described. They fit all of my old and newer T-posts. Some required a little more tapping to get them on. I used a rubber mallet. None broke. I like these better than the old caps because the fence wire/tape runs on top of the post rather than off to one side. Ordering was simple and delivery faster than expected. Price was very reasonable. These caps help hold in Percheron horses, alpacas and a guard llama. Will definitely buy more when needed.
Premier Hot Top Insulator
Rebecca M from Illinois
I love these. I had ordered just a few the first time to see if I liked them better than the yellow farmstore ones. I did! I like how it was on top of the fence and not just one one side. Also I found the yellow ones in a couple of years tended to break down and these did not. I just got done ordering more and in the spring I plan on ordering more. The goal is to eventually replace the yellow ones with these. Very happy in the product.
Premier Hot Top Insulator
Roselyn J from Texas
Works great. Using heavy duty T-posts. Line internal slots up with bumps on front and also the back spline (opposite of the bumpy front side). Tap firmly and it slides right on securely. Definitely recommend.
Premier Hot Top Insulator
Allan M from California
Super good, durable and good looking insulator. We have managed to get them to work on all t-posts. In some cases with very heavy, very light, or sheared t posts that have had the top end disfigured by a shear that needs to be sharpened in the factory, it can take a little bit of wiggling and pressure. Look underneath to make sure everything lines up if you are having problems. Sometimes you will have to slide it a bit forward or back to get it on.
Premier Hot Top Insulator
Virginia P from New Hampshire
I had to modify these to fit on my heavy duty farm store T posts by chiseling out some of the inside flanges.