Q-flex® Applicator
(23) Read reviews »
Used for applying all styles of Q-flex® ear tags.
Update – May 2018
Due to supply constraints, we have a limited number of Q-flex Applicators available. We offer two other applicators which can be used to apply Q-Flex® ear tags. Look to the
Allflex Applicator
or the versatile
Pro Applicator
. —Premier
Videos & Data
---
---
Tips
Tag placement is critical to success!
For maximum retention and the lowest risk of bleeding and infection, place ear tags in either of the two spots shown in the illustration below. The goal is about 2-3 inches from the head of the animal.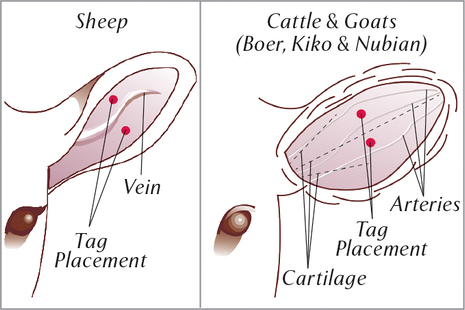 How-to: Insert Ear Tags in Cold Weather
Plastic tags (all brands) are much easier to install if they are warm. Why? As the temperature drops below freezing, plastic becomes less flexible (more stiff). Forcing the male point of a tag through the female takes many more lbs. of pressure (because the female must expand).
So if you care about your hands it's a good idea to keep the tags above freezing in very cold weather. It takes very little to do this. One method is to simply store them while tagging in a small bucket, cardboard box or tool box with a lid alongside a sealed pop bottle full of warm water. The warm water will keep both the air and the tags warmer in the container.
Reviews

(23)
Write a Review
You must be logged in to leave a review. Please sign in.
Q-flex® Applicator
Mary W from Maine
Totally painless!
Q-flex® Applicator
Shelley L from Canada
Not impressed with them. I got the first one and it's so hard to squeeze I need three hands to use it. So I got a second and it's the same thing. Bend a lot of pins as well. But gets the job done
Q-flex® Applicator
Justin F from California
Cheap but do the job. Same type of tool as you get free with scrapie tags. Should've held off to see before buying but it'll make a good backup.
Q-flex® Applicator
Chad B from Virginia
Just tagged 30 goats... Worked just fine. No problems at all.
Q-flex® Applicator
Cathy S from Iowa
Would be nice if the tagger came free with the eartags as they used to. Worried about the pin breaking after reading other reviews. Pain in the butt to need 2 taggers for free scrapie tags v. premier tags.