SmoothCote™ FiberRod Posts (1/2 in. dia.)
(18) Read reviews »
Use for temporary fences where stronger posts are needed or in electrified netting at corners and ends.
Use where a stronger and stiffer post is needed on a temporary fence or in electrified netting at corners and ends. Better for slight curves than a 3/8" rod.
Use a ScrewOn Rope/Tape Insulator with the post to hold twine, rope and narrow tape.
Don't forget the drive caps!
Prevent hammer damage to tops of posts by placing a protective drive cap on top of the post during installation.
One drive cap lasts through years of uses and many posts. We recommend approximately one cap for every 20 posts ordered.
Data
---
Benefits
Premier's SmoothCote FiberRods have a urethane coating to prevent fiberglass splinters from developing. (If you have not experienced these splinters, they're very painful as well as hard to spot.)
---
Specs
4, 5, or 6 ft tall
1/2" diameter
White in color
Pencil-pointed
An extra UV resistant urethane outer coating to prevent fiberglass splinter
---
Accessories
Listed below are recommended optional components or related items. Your particular situation may require alternative recommendations. Please call and talk to our consultants if there are any questions at 800-282-6631.
Reviews

(18)
Write a Review
You must be logged in to leave a review. Please sign in.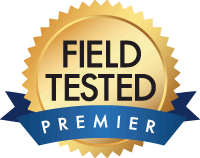 We like that this rod is thicker than the 3/8" post, which allows it to handle corners and curves better. It is much stiffer than the 3/8" post, too. (Amazing what 1/8" difference can make.)
SmoothCote™ FiberRod Posts (1/2 in. dia.)
Joe K from Washington
Well made, smooth finish with no burrs or slivers. End points have been ground to enough of a point to drive easily without being so sharp tipped to be dangerous. Used camo duct tape to cover the bright white and it blends right into the foliage.
SmoothCote™ FiberRod Posts (1/2 in. dia.)
Gina S from Pennsylvania
I bought these posts for my vegetable garden and they exceeded my expectations. In fact I was so pleased with them I placed another order.
SmoothCote™ FiberRod Posts (1/2 in. dia.)
Keith K from Missouri
I am using these fiberglass rods to support deer netting containing my chickens and ducks in their outdoor range. Good product, and at some point I may re-purpose to run electric wire for the horses, goats, or ?
SmoothCote™ FiberRod Posts (1/2 in. dia.)
Dan C from Oklahoma
These poles were exactly as advertised. I'm using them in my work as a nuisance wildlife control officer. They make my work easier especially on nuisance beaver trapping in different water levels. They are light to carry and very strong and durable.
SmoothCote™ FiberRod Posts (1/2 in. dia.)
Troy M from Mississippi
Great posts for horses or other farm animals.