SmoothCote™ FiberRod Posts (3/8 in. dia.)
(49) Read reviews »
Portable inexpensive post that are used as line post on multi-strand fences and as extra support post for netting.
Clip options:
Don't forget the drive caps!
Prevent hammer damage to tops of posts by placing a protective drive cap on top of the post during installation.
One drive cap lasts through years of uses and many posts. We recommend approximately one cap for every 20 posts ordered.
Accessories
Listed below are recommended optional components or related items. Your particular situation may require alternative recommendations. Please call and talk to our consultants if there are any questions at 800-282-6631.
Reviews

(49)
Write a Review
You must be logged in to leave a review. Please sign in.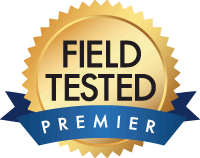 Excellent for line fences though it is not the best for corners or curves (upgrade to ½" posts in those situations). Using a drivecap reduces wear on the post thus increasing its longevity. They last in the weather hot or cold (one of our employees used these in his line fence set up over winter to let his graze an old pasture).
SmoothCote™ FiberRod Posts (3/8 in. dia.)
Victoria G from Florida
Great product and very sturdy. I use them as support stakes for my mosaic garden art.
SmoothCote™ FiberRod Posts (3/8 in. dia.)
Brodie M from South Carolina
This company is awesome. I ordered more parts than I needed for our project and they called me to decrease my order. Honesty goes a long way. I highly recommend Premier 1 Supplies.
SmoothCote™ FiberRod Posts (3/8 in. dia.)
Phyllis C from Maryland
I use these posts to make fences to keep the deer out of my Hosta garden. They work great. I use window bird netting, cut to size, and attach it with binder clips. The stakes are easy to hammer in and stay in place. A great solution to an ongoing problem!
SmoothCote™ FiberRod Posts (3/8 in. dia.)
Luke P from South Dakota
I bought my first posts 15 or so years ago. I still have 80% of those original posts. These are an excellent buy and a low-cost way to get into temporary electric fence. Unless the ground is dry or frozen, I can usually push the posts in by hand. Easy to carry with harp clips, no tangled mess. Highly recommend!
SmoothCote™ FiberRod Posts (3/8 in. dia.)
Jerry P from Montana
These posts are excellent quality and you cannot beat the price.