⚡ Southeast Iowa is expecting severe weather with tornadoes likely.
Premier will close today at 3pm
(Central) to allow our staff to travel safely home. Please
contact us
online and we'll respond as quickly as possible. Thank you for your patience. ⚡
Data
---
Specs
Ring: Nylon
Shank: 0.23" diameter (goes half way around inside the ring), galvanized steel
25 per package, but sold individually
---
How to Use
Predrill holes in the wood post.
Put bit end of TuffRing II Power Driver into chuck of drill and tighten.
Place power driver over the insulator so the ring of insulator fits into cup of driver. Drive insulator completely into post.
Thread twine and rope, IntelliBraid, MaxiShock or IntelliTape.
through insulator.
Without a Power Driver
Predrill holes in the wood post.
Screw insulator completely into the post.
Thread twine and rope, IntelliBraid, MaxiShock or IntelliTape.
through insulator.
---
Tip
When installing
without
a Power Driver—use a screwdriver, slide the blade between the halves of insulator and twist to screw in.
Accessories
Listed below are recommended optional components or related items. Your particular situation may require alternative recommendations. Please call and talk to our consultants if there are any questions at 800-282-6631.
Insulators

Allows use of a power drill to rapidly screw in ring-type insulators in and out of wood posts.

Conductors - Rope-Twine-Wire-Tape

Highly visible polyester electric fence conductor with excellent conductivity over long distances. 6mm (1/4") diameter. 25 years probable life.

Fence Connectors and Accessories

All-in-one fence tester checks the voltage of energizers, fences and 12V batteries. Simplify electric fence troubleshooting with one device!

Conductors - Rope-Twine-Wire-Tape

6mm (1/4") dia. braided rope conductor for electric fences. Black/white color is easy for humans and livestock to see. Polyester for high UV-resistance.

Conductors - Rope-Twine-Wire-Tape

4.5mm (3/16") electrifiable rope for permanent or rotational grazing fences. Tinned copper filaments for high conductivity (50 Ω per 1000 ft).
Reviews

(27)
Write a Review
You must be logged in to leave a review. Please sign in.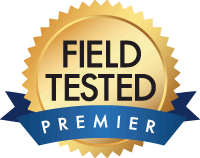 It took us hitting one of these with a tractor to break it, so they live up to their name. A versatile insulator that works just as well as a line fence insulator or a terminal insulator (can be used with P-Springs). This is "our" go-to wood post insulator. When installing, use the power driver. Not designed for use at corners, the rotating PI 21 or Rotating Corner Post insulators are recommended.
TuffRing™ II Insulator
Vladislav K from Virginia
Poor insulation quality. About half of these conduct the pulse. Using the Premier 1 charger, so the voltage is a little higher (8kV). The plastic is thin between the conductor wire sitting in the loop and the metal screw inside the insulator, which is where the pulse arcs through burning up the insulator and eventually the plastic strands in the wire. Unfortunate, as everything else about this thing is great.
TuffRing™ II Insulator
John G from Kentucky
They work and are the best that I have used so far... I have replaced similar hooks and also porcelain insulators that have broken on me.

These are easy to use with a cordless drill and the installation tool, plus they last and my goats do not seem to tear them up and they also seem to stand up to weather.

Only wish I had used these to begin with.
TuffRing™ II Insulator
Amanda R from Iowa
These are not for high tensile wire. The high tensile wire grounds out right through them.
TuffRing™ II Insulator
Susan P from North Carolina
These are strong and hold up well.