Big Bale Feeder
(57) Read reviews »
Great way to feed round and square bales while reducing wasted hay. It pays for itself in 1 year!
We've added a 3/8" reinforcement rod above and below the feeding holes for extra support against large, pushing rams or ewes.
Note: We sell wire panels, hinges and snap clips individually. This way you can design according to your situation or need. See "Customization" section below for more information.
Not for use with cattle, horses or horned animals.

California Residents: Proposition 65 Information
Videos & Data
---
Customization
How many panels, hinges and clips are needed for a round bale?
4 ft dia. bale:

5 panels, 4 connector hinges, 2 snap clips

5 ft dia. bale:

6 panels, 5 connector hinges, 2 snap clips

6 ft dia. bale:

7 panels, 6 connector hinges, 2 snap clips
---
Specs
Wire Panel:
Hot-dip galvanized steel
48" tall x 40" long
4 - 8" x 12" eating holes with 1/4" reinforcement rods top and bottom
3/8" dia support rods (outer rods & 4 vertical internal rods)
1/4" dia rods elsewhere
4 head-holes per panel
---
Benefits
Can pay for itself in 1 year…
Calculating the lost $$ due to wasted hay provides a picture of the relative value of a Big Bale Hay Feeder. Assume 40 ewes eat 5 lbs of hay for 165 days. Assume hay costs $190/ton (9¢/lb).
Big Bale Feeder—10% wastage, $297 wasted hay.
Other feeders—25% wastage, $750 wasted hay.
The $453 difference pays for a Premier Big Bale Feeder feeder—in only 1 year!
Reinforced, double rod eating holes

for pushy rams and ewes
Folds flat—easy to store and move
Adult sheep can't get inside it
More durable than feeders made with cheap farmstore wire panels
Adapts to most round or square bale sizes­
Ships

FREE

via Ground service when ordering more than one panel. Most need 5–7 panels.
Shepherd's Choice™ Management Tip
Due to weather variability during the haying season, producers may be feeding poorer quality hay during the winter months. As a result, late gestation and lactating ewes will need more protein in the grain mix. One can use soybean, dry distillers grains or corn gluten feed. The hay may also have less energy per pound—grain feeding levels may need to be increased by a half- to full-pound per day. Lastly, if your hay is mostly grass, consider feeding at least 1% limestone in the grain mix to improve calcium levels.
Looking for
ration advice
? We can help customize a feed ration for your situation.
---
How to Use
Average of 40 ewes per 6 panel feeder is advised. (Too many ewes will cause fighting for access.) 1200 lb hay bale should last about 5 days.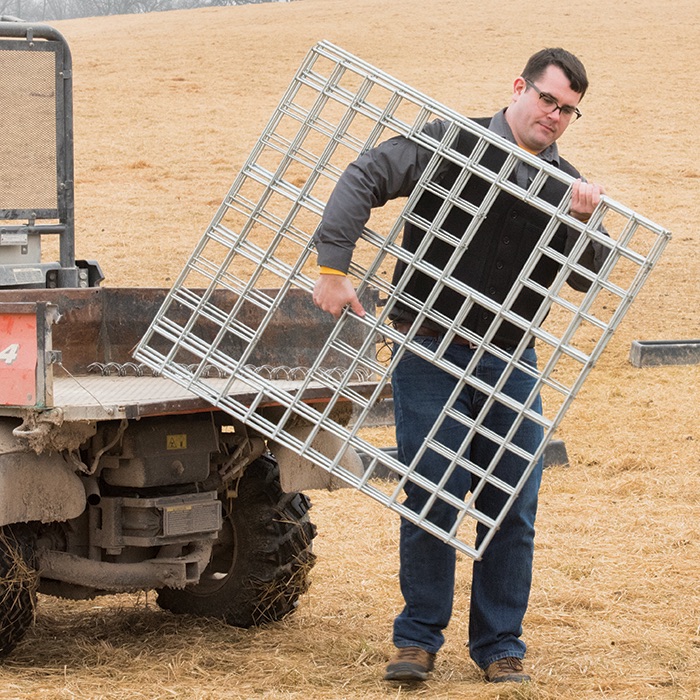 1. Panels are easy to carry and store
They can be carried or dragged short distances by hand (6 panels weigh 108 lbs) or transported by ATV. Unlike most other big bale feeders, Premier's wire panel feeders stack flat.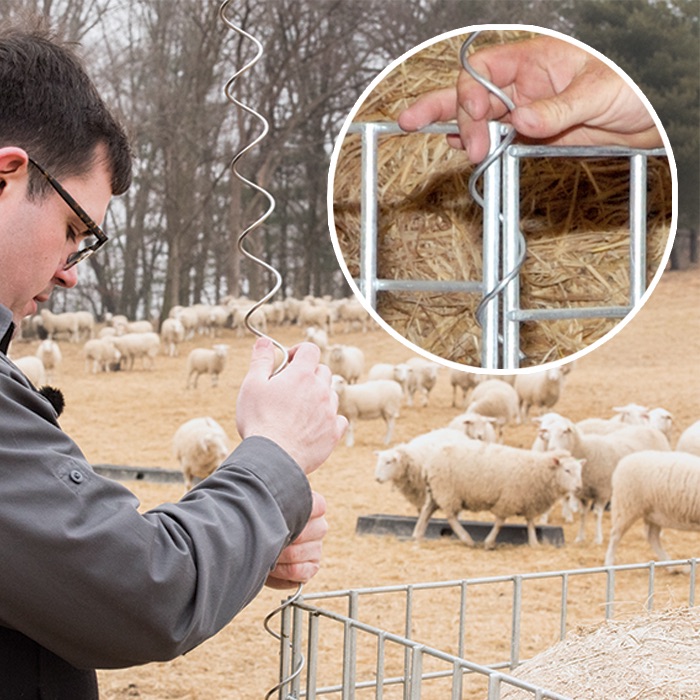 2. Joining panels with wire hinges
Join all panels with
wire connector hinges
(see inset). For 6 panels you will need 5 hinges. We rarely remove the hinges after joining the panels.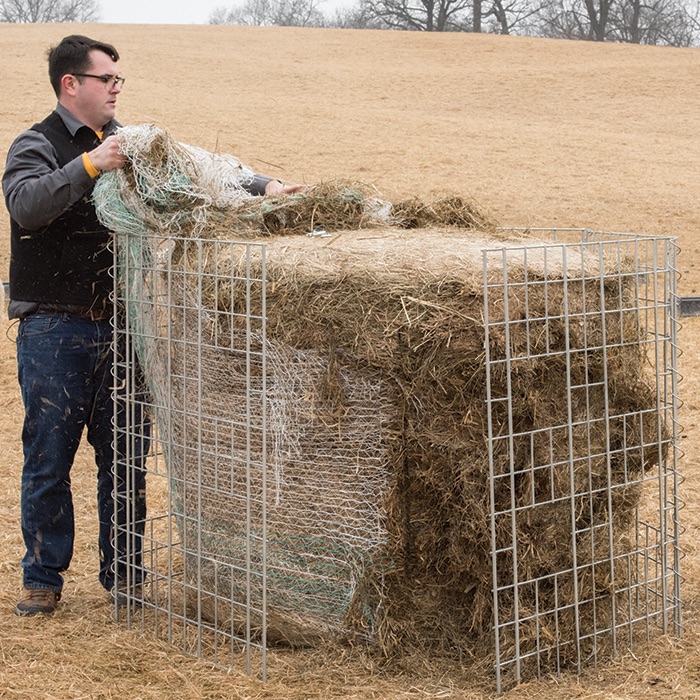 3. Adding a large round bale
Use a tractor or loader to place a round bale on either of its flat ends. Remove all twine, plastic or netting. Be careful to prevent the "freed" hay from unwinding. Remove any outer spoiled hay with a pitchfork and scatter it as bedding.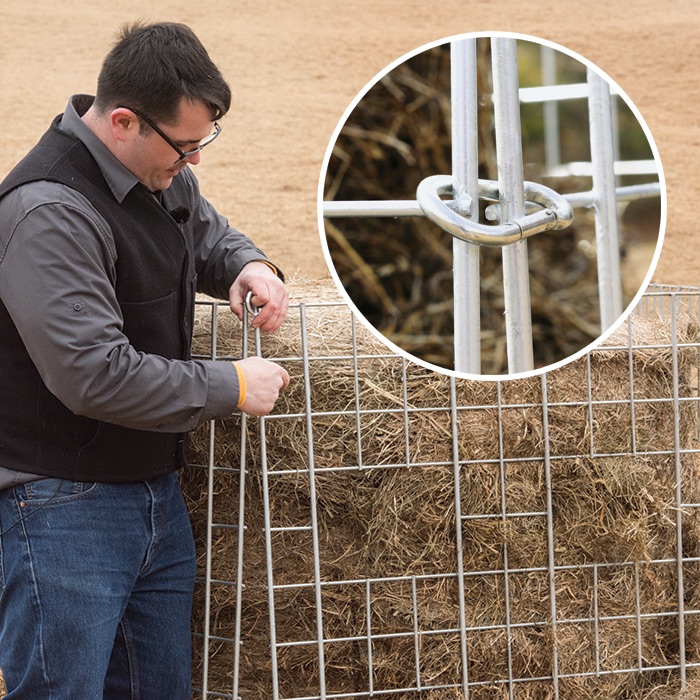 4. Wrap panels around bale and close with snap clips
Wrap the panel "system" around the bale. Connect the last opening with
snap clips
(see inset).
Set up the feeder so the horizontal rods face "out". When feeding, rams and ewes will push into the welds, reducing wear and tear on the panels.
Tip: To eliminate risk of sheep tipping over an empty feeder and thereby injuring themselves, drive a single steel post into the ground and secure 1 corner of the bale feeder to it. The post can stay in place all winter. Having noted that we rarely do this. We simply allow the sheep to tip the feeder over. Our last injury was 4 years ago—and we use 20 feeders all winter long.
---
Precautions
What
NOT

to do with Big Bale Feeders:
Don't

use them for cattle or horses.

Don't

use them with horned sheep or goats. We have tried this and know that they may get their heads caught and die.

Don't

place bales on their curved (rolling) side. Bales may mushroom and collapse upon a feeding ewe.

Don't

lift the feeder with the tractor loader. This puts unnecessary stress on the welds.

Don't

let panels freeze to the ground.

Don't

feed more than 40-50 ewes per feeder. Too many ewes per feeder may cause them to fight for access—which can result in poor-doing (or even dead) sheep.
Accessories
Listed below are recommended optional components or related items. Your particular situation may require alternative recommendations. Please call and talk to our consultants if there are any questions at 800-282-6631.
Reviews

(57)
Write a Review
You must be logged in to leave a review. Please sign in.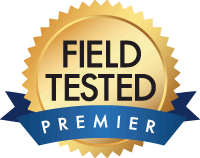 We had a hay waste problem with our old feeders so we came up with a solution. We don't know what we would use to feed our sheep with if we didn't have these Big Bale Feeders. We recommend not lifting them with the forks of a tractor. Once the sheep clean up a bale, we move the feeder to a different spot to prevent waste buildup in a single area. We love these feeders.
Big Bale Feeder
Arvid A from Illinois
Bought one two months ago wasn't sure how it would work. Just bought second bale feeder because my sheep prefer eating from them.
Big Bale Feeder
Laurie H from North Carolina
Quick delivery, excellent product, easy to put together. Works as advertised. VERY pleased!
Big Bale Feeder
Christina F from Kansas
This is a great big bale feeder for sheep. We had 1 for a year and loved it so much bought another one. It does save on hay. Also our 1 show ewe used to jump into any feeder and she cannot jump into this one and lay. She still looks at it like I will figure out a way—but she has not!!!
Big Bale Feeder
James T from New York
This is my second feeder with these panels. They are much more robust than the earlier feeder panels that we also have. We use these feeders with our meat goat herd and find that they are less wasteful of hay than our old basket style round bale feeder. My only recommendation for using this feeder is to make it into two sections of three panels each joined with the clips. I am approaching 69 years old and find it easier for me to move this way. A six panel feeder weighs more than I can comfortably handle without help, which I don't often have. My other feeder is several years old and has no damage from the animals.
Big Bale Feeder
Skye P from Minnesota
I am not exaggerating when I say putting these panels around our big bales to feed has saved us at least 50% on how much hay is wasted, not to mention how fast the flock was demolishing the rounds once the weather cooled off. Adding these feeders to our management program changes how many head we can comfortably keep over the winter. Absolutely recommend.