IntelliRope® PE 4.5
(40) Read reviews »
4.5mm (3/16") electrifiable rope for semi-permanent and portable fencing situations.
Virgin polyethylene (v-PE) filaments resist wear and abrasion
Excellent built-in elasticity
3 tinned copper and 3 stainless steel conductive filaments are 400 times more conductive vs. stainless steel only polywires
IntelliRope® PE 4.5 is identical to IntelliRope® PE 6.0, except it has fewer non-conductive monofilaments making it thinner and lighter.
Which conductor is right for you?
We offer a wide-range of electrifiable ropes, twines and tapes to fit your situation. Visit this link to compare all Premier conductors.
Videos & Data
---
Benefits
Grass farmers often use
IntelliRope®
as reliable subdivision fence for rotational grazing. Though many use this polywire as a boundary fence, you do so at your own risk.
Train your animals to respect electric fence first!
It is particularly good for humid climates because polyethylene resists mildew better than polyester.
IntelliRope® PE 4.5 can be pre-wound onto:
---
Specs
IntelliRope® PE 4.5
Size
4.5mm (3/16") diameter
Color
White / Black / White
Conductivity
50 Ω per 1000 ft
Conductive Filaments
3 tinned copper + 3 stainless steel
Non-conductive Filaments
Virgin polyethylene (v-PE)
Visibility to Animals
Good
Mildew Resistance
Excellent
Ultraviolet (UV) Resistance
Good
Breaking Strength
750 lbs
Probable Lifespan*
10 years
* Probable life is not a warranty by Premier. Why not? Because we know that longevity is highly dependent upon, but not limited to, quality of installation, insulator(s) used, rope tension, animal/wind/snow/ice/vegetation pressure and UV exposure (altitude and climate).
---
Cost
Approximate cost: 6¢ per foot
---
Installation Tips
Use up to 5 strands of electrified
IntelliRope® PE 4.5
stretched hand-tight between wood, steel or plastic end/corner posts. Terminate using
P Springs
and
RopeLinks
. The goal is to have the P Springs half compressed once everything is pulled tight.
Regular maintenance is required to adjust the tension of conductors and reset any loose line posts. Tree limbs that fall upon the fence must be removed immediately.
For dry soil and snowy conditions, convert the fence to "positive/negative" by connecting every other strand to a galvanized stake driven into the soil.
Spacing of line posts must be adjusted to terrain. Always put a post at top of hills and bottom of valleys. Vary the spacing of rope strands according to type and size of animal(s), fence usage (boundary vs. subdivision) and the number of strands.
Suggested Strand Height
(from ground)

:
For Sheep:

3-strand fence—35", 24", 12"
5-strand fence—36", 27", 20", 13", 7"

For Cattle:

1-strand fence—34"
2-strand fence—34", 22"
3-strand fence—40", 27", 15"

For Horses:

2-strand fence—46", 24"
5-strand fence—60", 48", 36", 24", 12"

For Gardens:

2-strand fence—15", 6"
---
Precautions
When cutting the rope to length, lightly burn the ends with a lighter or match to avoid unraveling.
Accessories
Listed below are recommended optional components. Your particular situation may require alternative recommendations. Please call and talk to our fence consultants if there are any questions at 800-282-6631.
Reviews

(40)
Write a Review
You must be logged in to leave a review. Please sign in.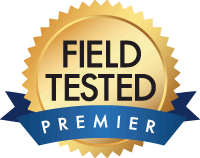 IntelliRope®
is the main low-tension conductor used on our farms. It is far more visible than standard electric wire and easier to install (doesn't try to "re-wind" itself). Last winter a deer became caught in the fence—as evidenced by the hair left behind—and broke the rope (a rare occurrence). We were able to mend the break by using a simple
RopeLink
. If you're fencing specifically for horses use a 6mm gauge (
IntelliRope®
,
EnduraSoft®
,
IntelliBraid®
), or a
tape conductors
.
IntelliRope® PE 4.5
Rachel D from Michigan
I recently bought this to reinforce my buck pen. This was so simple to set up along the top of my cattle panels. I power it with a solar energizer and so far have had nothing but success.
IntelliRope® PE 4.5
Pam R from New Jersey
I could not be more pleased at how well the IntelliRope & multiclip posts are working. I was considering the tape style hotwire but was cautioned that it would be much more wind sensitive. I put a couple pieces of plastic ribbon on a couple of spots to deter my rambunctious 5 yo Rocky Mountain horse but the rope is very visible. This is not my first protection endeavor with Premier & they certainly did not disappoint. Superior products & superb & knowledgable advisors.
IntelliRope® PE 4.5
Pandora S from North Carolina
This is the the best rope. I have this product that has been in use for eight years and it still carries its charge.
IntelliRope® PE 4.5
Kathryn P from Texas
Super easy to use. We strapped the Eze Reel to the tailgate of our Ranger and unroll and rewind the IntelliRope easily. Love the IntelliRope!
IntelliRope® PE 4.5
Ginger S from Michigan
I use this fence for rotational grazing cattle, dairy & meat goats and feeder hogs. The rope is visible, durable and conducts well. It is easy to re-spool. (I use garden hose carts which are lightweight and easy to roll around.) I find it doesn't stretch much once I get it pulled tight. I've started using the springs and connectors from this company and in combination — works really well. We have switched over all of our line over the last 3 years and I am quite happy. Worth the price since it holds up well, even where I have it up year round.