IntelliTwine™ 2.25
(26) Read reviews »
2.25mm (12 gauge/.09" dia.) electrifiable polywire. A good choice when portability is needed. Often used for rotational grazing of cattle and sheep.
Virgin polyethylene monofilaments are twisted with 3 stainless steel and 3 tinned copper filaments. (Copper has the best electrical conductivity of any metal, except silver.)
IntelliTwine™ 2.25 is lightweight, has excellent elasticity, and is resistant to mildew. It's easy to unwind/rewind onto reels—small diameter enables reels to hold up to 2000 ft.
Which conductor is right for you?
We offer a wide-range of electrifiable ropes, twines and tapes to fit your situation. Visit this link to compare all Premier conductors.
Videos & Data
---
Benefits
This is Premier's least expensive polywire and the quickest strand fence to install/remove. A good choice for temporary livestock fences or keeping varmints out of gardens.
Polyethylene works well in humid climates because it resists mildew better than polyester.
Up to 2000' ft of IntelliTwine™ 2.25 can be pre-wound onto:
---
Specs
IntelliTwine™ 2.25
Size
2.25mm (12 gauge/.09" dia.)
Color
White / Black / White
Conductivity
50 Ω per 1000 ft
Conductive Filaments
3 tinned copper + 3 stainless steel
Non-conductive Filaments
Virgin polyethylene (v-PE)
Visibility to Animals
Fair
Portability
Excellent
Mildew Resistance
Excellent
Ultraviolet (UV) Resistance
Good
Breaking Strength
280 lbs
Probable Lifespan*
5 years
* Probable life is not a warranty by Premier. Why not? Because we know that longevity is highly dependent upon, but not limited to, quality of installation, insulator(s) used, rope tension, animal/wind/snow/ice/vegetation pressure and UV exposure (altitude and climate).
---
Cost
Approximate cost: 3¢ per foot
---
Installation
Use up to 5 strands of electrified
IntelliTwine™ 2.25
stretched hand-tight between wood, steel or plastic end/corner posts. Terminate using a
TuffRing™
(wood post),
PI 21
(T-post), or a
Conductor Hook
(wherever you need an entrance.)
Properly energized fences last longer and require less maintenance—because animals do not crowd, rub or scratch on them. Confirm voltage is at least 3000V at the end of the fence line. Tree limbs that fall upon the fence must be removed immediately.
Spacing of line posts must be adjusted to terrain. Always put a post at top of hills and bottom of valleys. Vary the spacing of rope strands according to type and size of animal(s), fence usage (boundary vs. subdivision) and the number of strands.
Suggested Strand Height
(from ground)

:
For Sheep:

3-strand fence—35", 24", 12"
5-strand fence—36", 27", 20", 13", 7"

For Cattle:

1-strand fence—34"
2-strand fence—34", 22"
3-strand fence—40", 27", 15"

For Gardens:

2-strand fence—15", 6"

For dry soil and snowy conditions, convert the fence to "positive/negative" by connecting every other strand to a galvanized stake driven into the soil.
---
Precautions
When cutting the twine to length, lightly burn the ends with a lighter or match to avoid unraveling.
Accessories
Listed below are recommended optional components. Your particular situation may require alternative recommendations. Please call and talk to our fence consultants if there are any questions at 800-282-6631.
Reviews

(26)
Write a Review
You must be logged in to leave a review. Please sign in.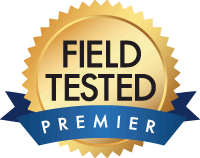 IntelliTwine™ 2.25
is lightweight and well suited for temporary fencing situations. We do not use this polywire for permanent fences. It lacks longevity
(only 5 years of probable life)
and it's thinner than our
other electric fence conductors
. The advantage is that it's very portable.
The cost makes it an attractive option for wildlife control in gardens—just insert posts, add insulators, then string it up. However, when compared to
electric netting
, it's more work and often less reliable.
IntelliTwine™ 2.25
Javon Z from Missouri
Great product, lasts over twice as long as any farmstore brands I've tried.
IntelliTwine™ 2.25
Dogwood Farm from Kentucky
We have been using managed grazing techniques since 1989, moving cattle daily to fresh pasture, and back-fencing to allow grazed paddocks to fully recover. IntelliTwine is by far the most highly conductive and easiest to use of any polywire that we have ever used, and we have tried many other kinds. (If it will stop sheep, it will stop our Hereford cattle.) In addition, after being trained, cattle recognize it and avoid it, making even the economical 3 cent per foot product highly effective.
IntelliTwine™ 2.25
Roy H from Georgia
Love the twine for rotationally grazing cows. Perfect for daily moves. Much better quality than competitors!
IntelliTwine™ 2.25
Stanley & Rache R from Nebraska
We have tried both IntelliRope and IntelliTwine and have found the IntelliTwine is easier to move since more fits on a spool. The conductors are very good in the twine. We make our own stainless springs to connect the twine like are available for the rope. Much easier to make splices and connect and disconnect then knots. Not sure why they are not sold here.

The rope is more visible, and may last longer, but also costs more. Both are very good products.
IntelliTwine™ 2.25
Caprine Farms from Indiana
I have tried other twines but this is the best I have found.