PortaTrough™ 5
(30) Read reviews »
Use this portable 5 ft trough to water or feed sheep, goats, livestock protection dogs, ducks, geese and poultry. Withstands all weather and animal conditions.
Need a smaller trough? See PortaTrough™ 3.
Data
---
Shipping
Please contact us for a shipping quote to AK, HI, Canada or Mexico.
---
Common Uses
For grain, salt, mineral or water. Can be set right on the ground in all weather conditions.
Feed or water sheep, goats, livestock protection dogs, ducks, geese and poultry.
---
Specs
Base: 60"L x 12.25"W
Top: 58.5"L x 9.25"W
Depth: 5.25"
8 gallon capacity
---
Benefits
Difficult for animals to tip over.
Stackable for easy movement and storage.
Side handle allows it to be inverted with a toe to tip out water or ice.
Won't break if water freezes in it.
Water depth allows waterfowl to bathe their heads and necks.
Rounded inner base prevents sheep and goats from standing in the feeder.
Accessories
Listed below are recommended optional components or related items. Your particular situation may require alternative recommendations. Please call and talk to our consultants if there are any questions at 800-282-6631.
Reviews

(30)
Write a Review
You must be logged in to leave a review. Please sign in.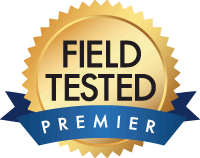 Feeder, waterer, duck bath, you name it, a PortaTrough can do it. They are a lot easier to pick up and move than a wooden feeder plus they're easy to clean. We use a number of these to provide extra grain to our ewes who are raising triplets as they need the extra "groceries". We have never seen one tipped over when we've gone to do chores. Tough enough to withstand the elements and everything
… Read More »
up to being run over with a tractor (we've done this, it's a great way to ruin a PortaTrough).
PortaTrough™ 5
Derick M from Kentucky
Used for a couple of weeks and they work great. Sheep have not turned them over and I have noticed when they try to step in it their feet slide and they quickly step back out because of the curved design of the trough. They are also very easy to move around. Good product to have.
PortaTrough™ 5
Edward C from West Virginia
We have used the troughs for several years and have added to the collection more than once. Some were cosmetic blems when we purchased. We are still using all of them with no issues and I am now ordering more since our herd has grown (approximately 150 head).
PortaTrough™ 5
Diane W from Florida
I like to feed my sheep their grain in different places so they don't destroy areas. The problem is you don't want to feed grain on the ground where poop and worms can be picked up and consumed by the sheep and donkey. I love these PortaTroughs! They are not heavy but durable and easy to kick back over after the donkey has upended them. The sheep cannot stand in them like they can the feed troughs so cannot pee/poop in them. I thought they were expensive but I'm thinking now they are worth every penny.
PortaTrough™ 5
Lori M from Florida
I really like this trough. I use it to feed my sheep. I have also used one to water the pigs that we have weaned
My first order arrived with one cracked trough. Premier replaced it right away. Great company and great customer service. I will be a repeat customer. Very happy with products and service. Thanks
PortaTrough™ 5
Jeffrey S
Made feeding my goats much easier. Very stable and easy to clean. Light weight and easy to move around as well. Prompt delivery.