SmoothCote™ FiberRod Posts (3/8 in. dia.)
(38) Read reviews »
Portable inexpensive post that are used as line post on multi-strand fences and as extra support post for netting.
Clip options:
Don't forget the drive caps! Prevent hammer damage to tops of posts by placing a protective drive cap on top of the post during installation. One drive cap lasts through years of uses and many posts.
Accessories
Listed below are recommended optional components or related items. Your particular situation may require alternative recommendations. Please call and talk to our consultants if there are any questions at 800-282-6631.
Reviews

(38)
Write a Review
You must be logged in to leave a review. Please sign in.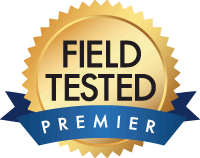 Excellent for line fences though it is not the best for corners or curves (upgrade to ½" posts in those situations). Using a drivecap reduces wear on the post thus increasing its longevity. They last in the weather hot or cold (one of our employees used these in his line fence set up over winter to let his graze an old pasture).
SmoothCote™ FiberRod Posts (3/8 in. dia.)
Michael H from Indiana
Good quality!
SmoothCote™ FiberRod Posts (3/8 in. dia.)
George L from Washington, D.C.
I use the green posts to fence flower beds in residential area. I prefer green to white because they are as noticeable. And I like the little black attachment clips for same reason.
SmoothCote™ FiberRod Posts (3/8 in. dia.)
Laura L
These are the posts I use for my cows. At the price I paid per post, 65 posts is just enough to get the free shipping, so the best deal in my opinion.
SmoothCote™ FiberRod Posts (3/8 in. dia.)
Matt A from Oregon
These are great: no fiberglass splinters. Install quickly and easy to remove when it's time to move the fence. Each bundle of 20 included a drive cap, which prevents the end from splitting when driving the post with a hammer. Great product!
SmoothCote™ FiberRod Posts (3/8 in. dia.)
Clint W from Texas
Can't really review the product yet but I am getting it ready. They are working out perfect for my bank lines! Shipping was fast and construction of the rods was outstanding, to include the pointed tips.