IntelliBraid® 6.0
Read reviews »
Excellent for all permanent electrified rope fences.
Consists of 4 tinned copper filaments twisted around first-quality polyester filaments. Polyester, the same filaments as in EnduraSoft, is noted for its inherent high resistance to UV light degradation.

View a comparison chart »
Data
---
Common Uses
Excellent for all permanent electrified rope fences.
---
Specs
25 years probable life
White/black/white color
1/4" diameter
Good visibility
Fair portability
48 ohms per 1000 feet
1800 lb breaking strength
---
Benefits
Black/white alternating colors increase effectiveness by offering contrast to animals against both light and dark backgrounds.
Conductors can be prewound (#237950 see above) onto an EzeReel, EzeReel XL or SupaReel for $3.00. Conductor sold separately and must be on the same invoice as the reel
---
Cost
Approximate cost per ft 15¢
---
Installation
Attach a terminal insulator to end post.
Tie end of the rope to terminal insulator.
Unroll rope along the fence line.
Insert line posts.
Insert rope in the line posts at the right height(s) for your animals.
Attach insulators (preferably notched PI 21n) to corner and end posts.
Tie rope to terminal insulator and spring at far end post. By hand, pull it tight enough to eliminate sagging between posts. Tie off by hand, or use a RopeLink 2.0. (Note: If the length of the fence is 1000' feet or more, use a P Spring at both ends of the fence instead of just of just one.)
Use one of our reels to rewind and store rope.
Install and connect energizer to a ground rod and the fence. Turn on energizer. Check to make sure voltage is over 2000 volts.
For Sheep:
3-strand fence--35", 24", 12"
5-strand fence--36", 27", 20", 13", 7"


For Cattle:
3-strand fence--40", 27", 15"
2-strand fence--34", 22"
1-strand fence--34"


For Horses:
2-strand fence--45", 24"
5-strand fence--60", 48", 36", 24", 12"


For Gardens:
2-strand fence--15", 6"
---
Precautions
If cutting the rope, lightly burn the ends with a lighter or match to avoid unraveling.
Accessories
Listed below are recommended optional components. Your particular situation may require alternative recommendations. Please call and talk to our fence consultants if there are any questions at 800-282-6631.
Reviews
Write a Review
You must be logged in to leave a review. Please sign in.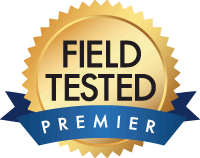 A very thick/ heavy duty conductor. Lasts for years as we've never had a problem with it. We're impressed with how tightly wound and rigid it is. It doesn't "stretch" like other conductors so retensioning is not necessary. We like that it is stiff and rigid. We're currently using it in our horse pasture on our home farm.
IntelliBraid® 6.0
Tamara W from Illinois
Great quality, easy to install, looks great! Love it so much we are replacing all of our high tensile wire fence for our horses with it!
IntelliBraid® 6.0
Joel R from Minnesota
Very pleasant to handle and easy to make connections. Same breaking strength as Electrobraid without the need to use copper connectors throughout the fence. I like it better than my Endurasoft rope and will be using Intellibraid in future fence projects
IntelliBraid® 6.0
Mary Sue S from Colorado
This IntelliBraid is a great product. It is a quality item, easy to work with, doesn't unravel, is easy for the animals to see and keeps our mules in the fence. We are very happy and impressed with the quality.
IntelliBraid® 6.0
Ben M
Absolutely dissatisfied. Terrible construction. Began coming apart and breaking within the first month I put it up. Had to take it down and use another product.
Ben's result has us a little puzzled as polyester rope (either twisted or braided breakage has never happened on Premier's farms and we rarely hear of user problems with IntelliBraid. Due to his experience we're now keen to know other's results (bad or good) with this product. — Premier
IntelliBraid® 6.0
Dan K
Durable in weather. After a few years the rope looks and functions like new. Delivers a good shock too.