Big Bale Feeder
(29) Read reviews »
Great way to feed round and square bales while reducing wasted hay. It pays for itself in 1 year!
Note: We are now selling Big Bale panels, hinges and snap clips individually. This way you can design according to your situation or need.
How many panels, hinges and clips you will need? See "Customization" below.

California Residents: Proposition 65 Information
Videos & Data
---
Common Uses
To feed sheep large round or square bales.
---
---
Specs
Panels
48" tall x 40" long
4 - 8" x 12" eating holes
3/8" dia support rods (outer rods & 4 vertical internal rods)
1/4" dia rods (other rods)
Hot-dip galvanized
---
Benefits
4 head-holes per panel.
Folds flat—easy to store and move.
Adult sheep can't get inside it.
Average of 40 ewes per 6 panel feeder is advised. (Too many ewes will cause fighting for access.) 1200 lb hay bale should last about 5 days.
More durable than feeders made with farm-store wire panels.
Adapts to most round or square bale sizes­.
Not for use with cattle, horses or horned animals.
Ships to you by UPS™/Spee-Dee™.
Most need 5–7 panels.
---
Cost
Can pay for itself in 1 year…
Calculating the lost $$ due to wasted hay provides a picture of the relative value of a big bale hay feeder. Assume 40 ewes eat 5 lbs of hay for 165 days. Assume hay costs $140/ton (7¢/lb).
Big Bale Feeder— 10% wastage, $231 wasted hay.
Other Feeders— 25% wastage, $577 wasted hay.
So, the $346 difference pays for a Premier feeder—in only 1 year!
---
Installation
Tip:
To eliminate risk of sheep tipping over an empty feeder and thereby injuring themselves, drive a single steel post into the ground and secure 1 corner of the bale feeder to it. The post can stay in place all winter. Having noted that we rarely do this. We simply allow the sheep to tip the feeder over. Our last injury was 4 years ago—and we use 20 feeders all winter long.
See downloadable instructions above.
---
Precautions
What NOT to do with Big Bale Feeders:
Don't use them for cattle or horses. Horned sheep or goats won't damage the feeder but they may get their heads caught.
Don't lift the feeder with the tractor loader. This puts unnecessary stress on the welds.
Don't let panels freeze to the ground.
Don't feed more than 40-50 ewes per feeder. Too many ewes per feeder may cause them to fight for access—which can result in poor-doing (or even dead) sheep.
Accessories
Listed below are recommended optional components or related items. Your particular situation may require alternative recommendations. Please call and talk to our consultants if there are any questions at 800-282-6631.
Reviews

(29)
Write a Review
You must be logged in to leave a review. Please sign in.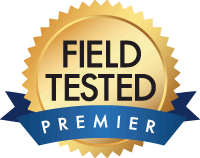 We had a hay waste problem with our old feeders so we came up with a solution, our Big Round Bale Feeders. We don't know what we would use to feed our sheep with if we didn't have these. We recommend not lifting them with the forks of a tractor. Once the sheep clean up a bale, we move the feeder to a different spot to prevent waste building in only one area. We love
… Read More »
these feeders, they pay for themselves by reducing waste.
Big Bale Feeder
D&B T from Michigan
I love it and the sheep love it! Plan on ordering another one.
Big Bale Feeder
Melissa S from Montana
Just set this up and with 30+ wind gusts today I can already appreciate how much easier it will make feeding round bales this winter. The panels are a lot heavier than I thought they would be- a plus. Delivery was super fast. Wish I'd started out with this feeder four years ago.
Big Bale Feeder
Jeff G from Missouri
Do not use with goats that can get inside the feeder. We have had this feeder for 2 seasons now and it works fine with our adult goats, but we have had 2 broken legs and another 2 dead goats. Kids as young as 2 weeks can easily crawl into the feeder and if they try to jump up and over the side their hind legs can easily get caught in the panels. It is very disheartening to walk out and find dead goats hanging from the side of the hay feeder.
This is good advice. Unfortunately, livestock loss can and will occur if lambs and goat kids are climbing on, or in, these feeders. In addition to a greater risk of injury, young stock can soil the feed with their urine and feces.

If young lambs and goat kids are climbing into the feeders, block off the lower access points. (This may restrict sheep and polled goat access.) To satisfy goats climbing desire, provide alternative climb friendly devices (such as spools). — Premier
Big Bale Feeder
David M from New York
The hay panels are very rugged and work very well. Well worth the price.
Big Bale Feeder
Gary J from Kansas
This is a very poorly constructed big bale feeder. This is my third review on this specific product, and as impressed as I thought I was at first, I am totally disappointed now. I've had big bale feeders that are blue, red, and three Premier galvanized feeders. The Premier feeders don't hold up, welds break, rods bend, sheep get into bale. Premier sells some good ear tags and that's good because you'll be needing ear tags replaced also with this feeder. We don't have large sheep, but this is the weakest, most poorly constructed feeder I've purchased. So, I've just purchased two new red feeders to replace these Premier feeders. My first "red" big bale feeder is now nearly six years old and used every single day, and not a single problem, broken weld, or bent rod. Premier claims that it pays for itself in one year and it's a good thing. .... because by year two you're either buying replacement panels or paying someone to weld them. Absolute junk. If you want a feeder to last, don't waste your hard earned money on these Premier feeders!!!!! Just saying. You get what you pay for. Buy quality!