EnduraSoft® 6.0
(23) Read reviews »
For permanent electrified fences. Made of polyester so it's soft to the touch. Very good conductivity (50Ω/1000 ft) so it's suited for any length of fence line and nearly all energizers.
The rope is twisted instead of braided like IntelliBraid®.
Videos & Data
---
Common Uses
Use for permanent horse, deer and cattle fences.
---
Specs
25 years probable life*
Use for: Permanent fences
Color: White/black/white
Size: 6mm (1/4") diameter
Portability: Fair
Conductivity: 41 ohms per 1000 ft (lower number is better and more conductive)
Ability to carry a charge: Very good
Type of conductive filaments: Tinned copper & stainless steel—makes this 400 times more conductive than stainless steel polywires
Number of conductive filaments: 3 tinned copper & 3 stainless steel
Ability to be seen by animals: Very good
Type of non-conductive filaments: Polyester—more resistant to ultraviolet light
Ability to resist mildew: Fair
Breaking strength: 1800 lbs
---
---
---
Installation
Attach a terminal insulator to end post.
Tie end of rope to terminal insulator.
Unroll rope along the fence line.
Insert line posts.
Insert rope in the line posts at the right height(s) for your animals.
Attach insulators (preferably notched PI 21n) to corner and end posts.
Tie rope to terminal insulator and spring at far end post. By hand, pull it tight enough to eliminate sagging between posts. Tie off by hand, or use a RopeLink. (Note: If the run of the fence is 1000' or more, use a P Spring at both ends of the fence instead of 1 end.)
Use one of our reels to rewind and store rope.
Install and connect energizer to a ground rod and the fence. Turn on energizer. Check to make sure voltage is over 2000V.
Suggested Height:
For Sheep:

3-strand fence—35", 24", 12"
5-strand fence—36", 27", 20", 13", 7"

For Cattle:

3-strand fence—40", 27", 15"
2-strand fence—34", 22"
1-strand fence—34"

For Horses:

2-strand fence—48", 24"

For Gardens:

2-strand fence—15", 6"

For Deer:

5-strand fence—50", 40", 30", 20", 10"
2-strand fence—48", 30"
3-D fence—inside: 48", 18"; outside: 34"
---
Precautions
If cutting the rope, lightly burn the ends with a lighter or match to avoid unraveling.
*Probable life is not a warranty by Premier. Why not? Because we know that longevity is highly dependent upon, but not limited to, quality of installation, insulator(s) used, rope tension, animal/wind/snow/ice/vegetation pressure and UV exposure (altitude and climate).
Accessories
Listed below are recommended optional components. Your particular situation may require alternative recommendations. Please call and talk to our fence consultants if there are any questions at 800-282-6631.
Reviews

(23)
Write a Review
You must be logged in to leave a review. Please sign in.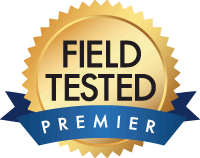 Nice for permanent fences. Soft to handle, doesn't tear up hands like wire. If cut, the ends tend to unravel so be sure to melt the ends as soon as they are cut. There is a lot of contrast between the black and wire polyester fibers.
EnduraSoft® 6.0
Debra C from Indiana
We just built permanemt fencing for our horses and love the Endurasoft. Easy to handle, easy to see, soft to the touch. We tied knots on the ends to stop the tendency to unravel. We have a lot of deer that come through and needed something resilient as well as a good shock deterrent for coyotes to protect our miniature horses. Love it!
EnduraSoft® 6.0
Jeannine E from Virginia
Well, it sure as heck is not electrobraid. A bit slippery (fasteners do not want o stay put. Be sure to buy some of those corkscrew pigtails. Helps immensely),

But, all that being said, the price is decent and boy, it sure can hold a charge. We'll see how long it lasts, but for the price I think it is going to be good.

Side note is I have fanced my entire pasture with this and electrobraid, pulling down high tensile I have horses). I could not be more pleased with that as a fencing solution. The horses totally respect it (with a good charger and good grounding, this thing pack a huge wallop) and you do not have to worry about storms or trees. I even had a tree fall on mine and the repair was painless and cost me nothing extra.

High;y recommended fencing solution.
EnduraSoft® 6.0
Ralph S from Alabama
decided to try this instead of high tension wire. I'm very glad I did. this rope is soft, easy to install and seems to hold up very well. as said will unravel if you dont tape and melt but no big deal. I was told by some that it would untwist but it doesn't.Liked it so much I bought and used it a second time. Will continue to use it. Great product.
EnduraSoft® 6.0
Robert B from South Carolina
The best product out there. Easy to install, great visibility and conductivity. Far superior to all the other ropes and tapes. I have used it on several occasions and what was installed 6 years ago looks just as good as what was just installed!
EnduraSoft® 6.0
Melanie W
Endurasoft's black/white design is very easy to see, which will be great come winter. It was very easy to install, and easy to work with. We had a large cottonwood fall on the fence this fall, and the only thing that broke was the connector to the t-post. Fantastic product!