EnduraSoft® 6.0
(20) Read reviews »
Twisted rope for permanent electrified fences. Made of polyester so it's soft to the touch.
Very good conductivity (50Ω/1000 ft) so it's suited for any length of fence line and nearly all energizers.

View a comparison chart »
Data
---
Common Uses
Use for permanent horse, deer and cattle fences.
---
Specs
25 years probable life
white/black/white color
6mm (1/4") diameter
Very good visible
Fair portability
41 ohms per 1000 ft
1800 lb breaking strength
Polyester—more resistant to ultraviolet light
3 tinned copper and 3 stainless steel filaments are intertwined
---
---
---
Installation
Attach a terminal insulator to end post.
Tie end of rope to terminal insulator.
Unroll rope along the fence line.
Insert line posts.
Insert rope in the line posts at the right height(s) for your animals.
Attach insulators (preferably notched PI 21n, see accessories tab above) to corner and end posts.
Tie rope to terminal insulator and spring at far end post. By hand, pull it tight enough to eliminate sagging between posts. Tie off by hand, or use a RopeLink 2.0. (Note: If the run of the fence is 1000' or more, use a P-Spring at both ends of the fence instead of 1 end.)
Use one of our reels to rewind and store rope.
Install and connect energizer to a ground rod and the fence. Turn on energizer. Check to make sure voltage is over 2000 volts.
Suggested Height:
For Sheep:

3-strand fence—35", 24", 12"
5-strand fence—36", 27", 20", 13", 7"

For Cattle:

3-strand fence—40", 27", 15"
2-strand fence—34", 22"
1-strand fence—34"

For Horses:

2-strand fence—48", 24"

For Gardens:

2-strand fence—15", 6"

For Deer:

5-strand fence—50", 40", 30", 20", 10"
2-strand fence—48", 30"
3-D fence—inside: 48", 18"; outside: 34"
---
Precautions
If cutting the rope, lightly burn the ends with a lighter or match to avoid unraveling.
Accessories
Listed below are recommended optional components. Your particular situation may require alternative recommendations. Please call and talk to our fence consultants if there are any questions at 800-282-6631.
Reviews

(20)
Write a Review
You must be logged in to leave a review. Please sign in.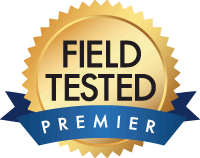 Nice for permanent fences. Soft to handle, doesn't tear up hands like wire. If cut, the ends tend to unravel so be sure to melt the ends as soon as they are cut. There is a lot of contrast between the black and wire polyester fibers.
EnduraSoft® 6.0
Cynthia F from Illinois
Used for last 5 years on very large pastures; dividing pastures and 48x48 drylots. Horses do not seem to receive any injuries when situations occur & coming in contact with fence. I use 3 strands, all hot at heights of 26"; 37 and 50". Easy to repair; soft to touch and very easy for 1 person to install. You can also take down & reuse as needed. If you have good ground & fence charger, this will definately give them a good "shock" if touched. I find it better than the electric rope that I have used for many years as the rope has a tendency to become very hard with scale from rain deposits where as this does not. Had the rope fence (when hard & scaled) damage a horses leg ALMOST as bad as what the high tensile did. I have had no cuts from this fencing-though they have come in contact with it & pulled it down occassionally. Total of 25 horses on this fence in individual drylots all winter; 20 acres of pastures divided with approx 5 horses/pasture. Very satisfied & will continue to order as needed.
EnduraSoft® 6.0
Kim & Richard F from Iowa
I've been using Endura Soft for a permanent deer fence for about 15 years. I recently bought another roll for repair work. The fence didn't wear out but accidents with mowers and controlled burns have required some patching that used up what was left from original installation. Also adding a 4th ground wire so the fence is effective in snow used up a lot. Repairs only require tying the ends, it is soft and easy to handle. The deer seem to easily see it.
EnduraSoft® 6.0
Karen F
I had one strand of Endurasoft tied to a 6ft T-post. Long story but the Endurasoft got pulled hard enough to snap the T-post clean off where it entered the ground without any damage to the rope. It hasn't been up long enough to see how it holds up to our winters, but everyone who sees it loves it. So soft but really carries the electric well.
EnduraSoft® 6.0
Seth W from Nebraska
Fantastic product! Originally bought Endurasoft 5 years ago for our first horse pasture - when we added a second pasture this spring, we didn't even consider another product. Our original fence from 5 years ago still looks brand-new and we've had no issues with it (we've had trees fall on it - other than the post connector breaking, the fence line itself held). Very easy to install. We use 3 strands and the horses have never had an issue with it - the black/white visibility is great during the cold winter months and very easy to see in the summer too. Will continue to purchase in the future.