IntelliRope® PE 6.0
(41) Read reviews »
Excellent for both permanent and portable fence situations because PE (polyethylene) filaments resist wear and abrasion.
Identical to IntelliRope® PE 4.5 except it has more polyethylene (PE) monofilaments.
Videos & Data
---
Common Uses
Use for horses, cattle, sheep and goats.
An effective electrified conductor for 3D anti-deer fences.
---
Specs
10 years probable life*
Use for: Permanent and portable fences
Color: White/black/white
Size: 6mm (1/4") diameter
Portability: Good
Conductivity: 41 ohms per 1000 ft (lower number is better and more conductive)
Ability to carry a charge: Very good
Type of conductive filaments: Tinned copper & stainless steel—makes this 400 times more conductive than stainless steel polywires
Number of conductive filaments: 3 tinned copper & 3 stainless steel
Ability to be seen by animals: Very good
Type of non-conductive filaments: Polyethylene
Ability to resist mildew: Very good
Breaking strength: 1200 lbs
*Probable life is not a warranty by Premier. Why not? Because we know that longevity is highly dependent upon, but not limited to, quality of installation, insulator(s) used, rope tension, animal/wind/snow/ice/vegetation pressure and UV exposure (altitude and climate).
---
---
Cost
Approximate cost per ft 9¢.
---
Installation
Permanent Rope Fence:
If posts are power-driven, only a battery drill, cutters and screwdriver are needed. We do 500 ft in 2 hours if posts are already in place.
Install wood end, corner and line posts.
Attach insulators to posts.
Attach rope to one end.
Clip rope into insulators. Pull until the P Spring is 50% compressed. Terminate it.
Connect ropes together electrically at one end with a piece of insulated wire.
Install and connect the energizer. Voltage should be over 1500V.
Note: If run is 1000' feet or longer, use a P Spring at both ends of the fence instead of 1 end.
Suggested Height:
For Horses:

5 strands—60", 48", 36", 24", 12"
2 strands—48", 24"

For Sheep/Goats:

5 strands—36", 27", 20", 13", 7"
3 strands—27", 15", 7"

For Cattle:

3 strands—40", 27", 15"
2 strands—34", 27"
1 strand—34"
---
Precautions
If cutting the rope, lightly burn the ends with a lighter or match to avoid unraveling.
Accessories
Listed below are recommended optional components. Your particular situation may require alternative recommendations. Please call and talk to our fence consultants if there are any questions at 800-282-6631.
Reviews

(41)
Write a Review
You must be logged in to leave a review. Please sign in.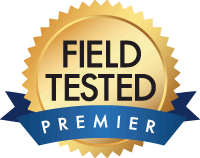 The thickness of this rope makes it very handy in a horse fence. It is very visible and like the 4.5 rope, easy to handle when installing. Using a reel when storing this conductor helps eliminate any tangle related headaches.
IntelliRope® PE 6.0
Kenrick W from PA
Use this rope for cross fencing within hi-tensile woven wire for rotation purposes with boer goats and where there is a common fence between where bucks may be; offset 8" from the hi-tensile woven wire. Bucks respect the offset wire, no more fighting between the hi-tensile. In the paddocks, run 2 strands on fiberglas posts attaching each end to a wood post (stays nice & taut); 1st strand ~12". Goats mostly repect the fence, some non-conformist (smaller goats) occasionally shimmy under it to the next paddock; goats eat underneath it so easy to maintain. Would NOT recommend this for a perimeter fence unless you use a 3rd strand, lower. Is installed basically permanently; no problems. Easy to work with, delivers adequate shock and highly visible.
IntelliRope® PE 6.0
Pamela T from Wisconsin
I purchased and installed this fencing in 2009. It was easy to work with and visible in all weather. I just installed another pasture area and perimiter fence this year and I will definitely be doing the same on our TN property! LOVE this fencing system!
IntelliRope® PE 6.0
James E from washington
Easy to work with. Excellent current carrying ability.
IntelliRope® PE 6.0
Susan P from PA
I absolutely love this fencing. It's easy to put up, easy to see, and the first pasture we did with this lasted over 10 years. We had a panicked horse run into five strands of this and he just bounced back unhurt....can't beat that for safe horse fencing!
IntelliRope® PE 6.0
Joe H from sc
excellent product that functions as intended.