IntelliRope® PE 6.0
(41) Read reviews »
Excellent for both permanent and portable fence situations because PE (polyethylene) filaments resist wear and abrasion.
Identical to IntelliRope® PE 4.5 except it has more polyethylene (PE) monofilaments.
Videos & Data
---
Common Uses
Use for horses, cattle, sheep and goats.
An effective electrified conductor for 3D anti-deer fences.
---
Specs
10 years probable life*
Use for: Permanent and portable fences
Color: White/black/white
Size: 6mm (1/4") diameter
Portability: Good
Conductivity: 41 ohms per 1000 ft (lower number is better and more conductive)
Ability to carry a charge: Very good
Type of conductive filaments: Tinned copper & stainless steel—makes this 400 times more conductive than stainless steel polywires
Number of conductive filaments: 3 tinned copper & 3 stainless steel
Ability to be seen by animals: Very good
Type of non-conductive filaments: Polyethylene
Ability to resist mildew: Very good
Breaking strength: 1200 lbs
*Probable life is not a warranty by Premier. Why not? Because we know that longevity is highly dependent upon, but not limited to, quality of installation, insulator(s) used, rope tension, animal/wind/snow/ice/vegetation pressure and UV exposure (altitude and climate).
---
---
Cost
Approximate cost per ft 9¢.
---
Installation
Permanent Rope Fence:
If posts are power-driven, only a battery drill, cutters and screwdriver are needed. We do 500 ft in 2 hours if posts are already in place.
Install wood end, corner and line posts.
Attach insulators to posts.
Attach rope to one end.
Clip rope into insulators. Pull until the P Spring is 50% compressed. Terminate it.
Connect ropes together electrically at one end with a piece of insulated wire.
Install and connect the energizer. Voltage should be over 1500V.
Note: If run is 1000' feet or longer, use a P Spring at both ends of the fence instead of 1 end.
Suggested Height:
For Horses:

5 strands—60", 48", 36", 24", 12"
2 strands—48", 24"

For Sheep/Goats:

5 strands—36", 27", 20", 13", 7"
3 strands—27", 15", 7"

For Cattle:

3 strands—40", 27", 15"
2 strands—34", 27"
1 strand—34"
---
Precautions
If cutting the rope, lightly burn the ends with a lighter or match to avoid unraveling.
Accessories
Listed below are recommended optional components. Your particular situation may require alternative recommendations. Please call and talk to our fence consultants if there are any questions at 800-282-6631.
Reviews

(41)
Write a Review
You must be logged in to leave a review. Please sign in.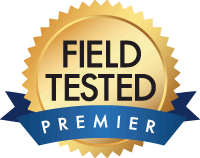 The thickness of this rope makes it very handy in a horse fence. It is very visible and like the 4.5 rope, easy to handle when installing. Using a reel when storing this conductor helps eliminate any tangle related headaches.
IntelliRope® PE 6.0
Nic S from Georgia
Works great, once the goats touch it once they know that white rope will shock them so usually once or twice an they know that's what got em.
IntelliRope® PE 6.0
Brenda H from Texas
I love this rope. It is easy to use for overnight camping with my horse and so easy to rewind.
IntelliRope® PE 6.0
Lucas A from Virginia
I like the PE 6.0. It isn't soft like the endurasoft, but it feels more rugged. It's just thicker intelitwine. The endurasoft will snag easily on briars or even snag on hooks. The PE doesn't do that. I've been using it for cattle gates.
IntelliRope® PE 6.0
Frank W from Wisconsin
I use this for kids and am positive it works much better than ordinary wire being much more visible.
IntelliRope® PE 6.0
Arkwild I from The Bahamas
We've depended on Premier1 products for nearly 15 years to help us save, and now restore, a rare breed of horse. In a difficult, hard to reach environment the ropes, tapes, posts, chargers etc all work beyond expectations, some of the rope and tape still in use. Thank You to Premier1 for great products and an equally great support team.