Rope Tensioner/Insulator
(17) Read reviews »
Innovative way to terminate and tension conductors.
Hooks easily to a P Spring. Conductor is inserted into a center spindle that's then tightened to the desired point (a P Spring half compressed).
Data
---
Common Uses
Use as an insulator and to tension polywires, polyropes, low tension wire, MaxiShock, narrow tape and braid.
---
---
Installation
Hook ring end into a P Spring.
Insert conductor through other end and through hole on center bolt.
Hold tail of the conductor to secure it and twist black knob on the side.
Once the tail of conductor is secured, let go and continue twisting knob until desired tension is reached. P Spring should be half compressed.
To loosen or remove conductor from the tensioner: unscrew the knob on the side to release.
Accessories
Listed below are recommended optional components or related items. Your particular situation may require alternative recommendations. Please call and talk to our consultants if there are any questions at 800-282-6631.
Reviews

(17)
Write a Review
You must be logged in to leave a review. Please sign in.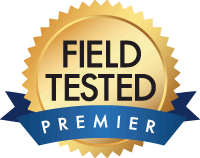 For fences that span less than 100' we use one of these instead of a P-Spring set up. We do combine them with a P-Spring on fences over 100 ft. Winding action reduces the stress and difficulty of tensioning a fence.
Rope Tensioner/Insulator
Linda H from Ohio
Wonderful. Makes tensioning rope fencing easy. I use with a P-spring at one end and a corner pulley insullator at the other end of longer runs.
Rope Tensioner/Insulator
Joe H from SC
This works, but is hard to use, not sure I'd buy these again, but price is right.
Rope Tensioner/Insulator
Stanley R from Nebraska
These work wonderfully for IntelliTwine. Very easy to use. They look tough and well made.
Rope Tensioner/Insulator
erik C from Califorina
A must for for twine and ribbon fences without reels. Makes it easy to keep the fence tight and working good.
Rope Tensioner/Insulator
Ralph S from alabama
Tough and very easy to tension fence