Rope Tensioner/Insulator
(17) Read reviews »
Innovative way to terminate and tension conductors.
Hooks easily to a P Spring. Conductor is inserted into a center spindle that's then tightened to the desired point (a P Spring half compressed).
Data
---
Common Uses
Use as an insulator and to tension polywires, polyropes, low tension wire, MaxiShock, narrow tape and braid.
---
---
Installation
Hook ring end into a P Spring.
Insert conductor through other end and through hole on center bolt.
Hold tail of the conductor to secure it and twist black knob on the side.
Once the tail of conductor is secured, let go and continue twisting knob until desired tension is reached. P Spring should be half compressed.
To loosen or remove conductor from the tensioner: unscrew the knob on the side to release.
Accessories
Listed below are recommended optional components or related items. Your particular situation may require alternative recommendations. Please call and talk to our consultants if there are any questions at 800-282-6631.
Reviews

(17)
Write a Review
You must be logged in to leave a review. Please sign in.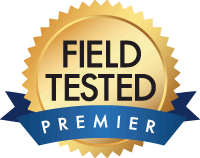 For fences that span less than 100' we use one of these instead of a P-Spring set up. We do combine them with a P-Spring on fences over 100 ft. Winding action reduces the stress and difficulty of tensioning a fence.
Rope Tensioner/Insulator
Allan T from California
Not so good. On the other side of the ratchet twister is a very weak "nut" that holds the ratcheting mechanism together. When it breaks the whole assembly fails. Not something you want on a ranch with miles of fencing. Maybe ok on a smaller place where you pass by it every day. If the nut gets improved this could be a good item as it is a clean installation and a time saver.
Rope Tensioner/Insulator
Patricia B from Pennsylvania
These are awesome! They are stiff to tighten, but, the electric rope isn't slipping a tiny bit! I've been thru 3 different tightened...nothing held! But these hold great! My only complaint is that there is a part that screw on the side. A number of them were really loose coming out of the bag. You have to manually tighten them before putting them up. Otherwise they fall off...and get lost. Then they are useless. But that is my only complaint. I won't buy any other tensioner in the future...these are "it" for me.
Rope Tensioner/Insulator
Leon E from Florida
These are great - they're made of plastic, so they both tension and insulate. If you attash them to the spring you don't need another insulator. If you do want the spring to be energised - just leave a bit of the rope out and tie it to the spring, then make a loop and run the loop the tensioner, rather than the very end of the rope. Also, personally I didn't think they were difficult to tighten and I'm no athlete.
Rope Tensioner/Insulator
Joel C from Iowa
Fast shipping and exactly what we needed!
Rope Tensioner/Insulator
Jackie N from WI
I don't like these. I think the knob is hard to turn. I don't like that they are plastic. If they were metal, then you could connect the electric to the p spring. They seem well made and are not cheap, but I don't think they are necessary or convenient.