SmoothCote™ FiberRod Posts (3/8 in. dia.)
(26) Read reviews »
Portable inexpensive post that are used as line post on multi-strand fences and as extra support post for netting.
Clip options:
Don't forget the drive caps! Prevent hammer damage to tops of posts by placing a protective drive cap on top of the post during installation. One drive cap lasts through years of uses and many posts.
Data
---
Specs
3/8" diameter
White in color
Pencil-pointed
Coated with urethane
Drive Caps (sold separately)
---
Benefits
Premier's SmoothCote FiberRods have a urethane outer coating to prevent fiberglass splinters from developing. If you've experienced fiberglass splinters, you know they're painful and hard to see.
The FiberRod has 3 clip options to hold conductors:
---
Cost
Sold in packages of 20, but priced each.
When ordering, please put in quantities of 20, 40, 60, etc.
---
---
Accessories
Listed below are recommended optional components or related items. Your particular situation may require alternative recommendations. Please call and talk to our consultants if there are any questions at 800-282-6631.
Reviews

(26)
Write a Review
You must be logged in to leave a review. Please sign in.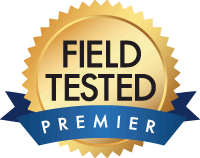 Excellent for line fences though it is not the best for corners or curves (upgrade to ½" posts in those situations). Using a drivecap reduces wear on the post thus increasing its longevity. They last in the weather hot or cold (one of our employees used these in his line fence set up over winter to let his graze an old pasture).
SmoothCote™ FiberRod Posts (3/8 in. dia.)
Jill P from Minnesota
Wonderful service and the FiberRods are just what we needed!
SmoothCote™ FiberRod Posts (3/8 in. dia.)
David S from Georgia
Seems to be another quality product from Premier 1. Quite impressed with their products.
SmoothCote™ FiberRod Posts (3/8 in. dia.)
Deborah C from Georgia
These posts are great! I bought these for my cows to run one strand of poly tape. The ground was really hard and dry here, so I carried my drill around with me with a long drill bit to make pilot holes, that made it really easy. My other paddocks have Gallagher step-in posts—I wish I would've found these sooner. I will be buying more for future projects!
SmoothCote™ FiberRod Posts (3/8 in. dia.)
Catherine K from Maine
Very good line posts which I use to support electric polywire around my vegetable garden. Not as sturdy as some I had purchased locally in the past at a much higher price, but these are an excellent price and very good for my purpose. They were shipped promptly and received in good condition. I would purchase again from this company.
SmoothCote™ FiberRod Posts (3/8 in. dia.)
Patti S from Missouri
These posts are strong, hold up well in summer and winter, and support high tensile wire, nets, and rope well.