SmoothCote™ FiberRod Posts (3/8 in. dia.)
(26) Read reviews »
Portable inexpensive post that are used as line post on multi-strand fences and as extra support post for netting.
Clip options:
Don't forget the drive caps! Prevent hammer damage to tops of posts by placing a protective drive cap on top of the post during installation. One drive cap lasts through years of uses and many posts.
Data
---
Specs
3/8" diameter
White in color
Pencil-pointed
Coated with urethane
Drive Caps (sold separately)
---
Benefits
Premier's SmoothCote FiberRods have a urethane outer coating to prevent fiberglass splinters from developing. If you've experienced fiberglass splinters, you know they're painful and hard to see.
The FiberRod has 3 clip options to hold conductors:
---
Cost
Sold in packages of 20, but priced each.
When ordering, please put in quantities of 20, 40, 60, etc.
---
---
Accessories
Listed below are recommended optional components or related items. Your particular situation may require alternative recommendations. Please call and talk to our consultants if there are any questions at 800-282-6631.
Reviews

(26)
Write a Review
You must be logged in to leave a review. Please sign in.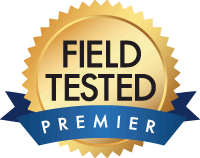 Excellent for line fences though it is not the best for corners or curves (upgrade to ½" posts in those situations). Using a drivecap reduces wear on the post thus increasing its longevity. They last in the weather hot or cold (one of our employees used these in his line fence set up over winter to let his graze an old pasture).
SmoothCote™ FiberRod Posts (3/8 in. dia.)
Reed O from Minnesota
Multi-use fiber rods are worth their weight and then some. From fencing duties at the homestead to trapping rats on the pond. You will not find a better product at a better price!
SmoothCote™ FiberRod Posts (3/8 in. dia.)
Thomas V from Louisiana
Needed posts for a lakefront, partly in water. Metal rusted off in two years, replaced with plastic but couldn't find long enough posts. These posts come long enough and are strong enough for light netting.
SmoothCote™ FiberRod Posts (3/8 in. dia.)
Mike S from Ohio
Very good product!
SmoothCote™ FiberRod Posts (3/8 in. dia.)
Steve G from North Carolina
Great product!
SmoothCote™ FiberRod Posts (3/8 in. dia.)
Taylor S from Iowa
From the ordering process online to the shipping and delivery everything was great! I ordered on a Wednesday night and by the time I was home from work on Friday my package was already delivered! Will definitely be returning in the future.