IntelliRope® PE 4.5
(23) Read reviews »
Excellent for both permanent and portable situations because PE filaments resist wear and abrasion. Excellent built-in elasticity. This 4.5mm version is less weight, lower cost and better for short-term fences.
Identical to IntelliRope® PE 6.0 except it has fewer polyethylene (PE) monofilaments.
Videos & Data
---
Common Uses
Use for temporary and permanent electric fences for all livestock.
---
Specs
10 years probable life*
Use for: Permanent & portable fences
Color: White/black/white
Size: 4.5mm (3/16") diameter
Portability: Very good
Conductivity: 41 ohms per 1000 ft (lower number is better and more conductive)
Ability to carry a charge: Very good
Type of conductive filaments: Tinned copper & stainless steel—makes this 400 times more conductive than stainless steel polywires
Number of conductive filaments: 3 tinned copper & 3 stainless steel
Ability to be seen by animals: Good
Type of non-conductive filaments: Polyethylene
Ability to resist mildew: Very good
Breaking strength: 750 lbs
---
Benefits
Can be pre-wound onto an:
Good for all sites but particularly for humid climates because polyethylene resists mildew the best. Excellent built-in elasticity.
---
Cost
Approximate cost per ft is 6¢
---
Installation
Attach a terminal insulator to end post.
Tie end of the rope to terminal insulator.
Unroll rope along the fence line. (Using Premier's reels makes this easier.)
Insert line posts.
Insert rope in the line posts at the right height(s) for your animals.
Attach insulators (preferably Notched PI 21n) to corner and end posts.
Tie rope to terminal insulator and spring at far end post. By hand, pull it tight enough to eliminate sagging between posts. Tie off by hand, or use a RopeLink
Use one of our reels to rewind and store rope. EzeReels™ can be set on the ground next to fence. MiniReels™ are best hung from the fence.
Install and connect energizer to a ground rod and the fence. Turn on energizer. Check to make sure voltage is over 2000V.
Suggested Height:
For Sheep:

3-strand fence—35", 24", 12"
5-strand fence—36", 27", 20", 13", 7"

For Cattle:

3-strand fence—40", 27", 15"
2-strand fence—34", 22"
1-strand fence—34"

For Horses:

2-strand fence—48", 24"

For Gardens:

2-strand fence—15", 6"
---
Precautions
If cutting the rope, lightly burn the ends with a lighter or match to avoid unraveling.
*Probable life is not a warranty by Premier. Why not? Because we know that longevity is highly dependent upon, but not limited to, quality of installation, insulator(s) used, rope tension, animal/wind/snow/ice/vegetation pressure and UV exposure (altitude and climate).
Accessories
Listed below are recommended optional components. Your particular situation may require alternative recommendations. Please call and talk to our fence consultants if there are any questions at 800-282-6631.
Reviews

(23)
Write a Review
You must be logged in to leave a review. Please sign in.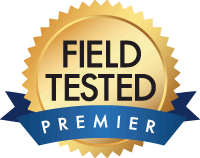 This has become the main conductor used on our farms. Much more visible than standard electric wire and easier to install (doesn't try to "re-wind" itself). Last winter became caught in the fence (as evidenced by the hair left behind) and it broke the rope (a rare occurrence). We were able to mend the break by simply using a RopeLink 2.0. If you're fencing specifically for horses use the 6mm ( 6mm Rope, EnduraSoft, IntelliBraid) or tape conductors.
IntelliRope® PE 4.5
James D from Ohio
First time with IntelliRope. Worked very well. Previously, only used IntelliTape, which I had used exclusively. Put up an extension of a pasture for horse, near the road. Used a combination of 2 board, 1 IntelliTape between the boards, and 1 IntelliRope above the top board primarily to limit or stop the horses from cribbing. So far, so good. Had serveral compliments on how it looked coming into the farm.
IntelliRope® PE 4.5
Allen F from North Carolina
I like the rope, it conducts well and is lightweight. Perfect for rotational grazing. Just be forewarned that 660' does not fit well on the EZ reel as they recommend. While it fits when carefully wound when in the field it is hard to get it tight and straight and falls off the edge of the reel when full. I'd just put less rope on the reel or use a smaller diameter rope.
IntelliRope® PE 4.5
Maria L from Pennsylvania
I used this for my inner fence in my dirt paddocks. The rope is HOT and the horses stay off of it. It's highly visible and strong. Easy to tighten if they do bounce off it.
IntelliRope® PE 4.5
Mitchel G from Ohio
This product was very easy for us to work with- truly a joy after struggling with thousands of feet of high-tensile wire a few years ago. However, I would switch to 6.0mm rope if I did the project again. (I should have listened to Premier's instructions, they warn against the 4.5 being slightly less visible.) So far the horses have really respected it, and it's holding up beautifully. I can't stress how much nicer this product is to splice/tie, cut, tension, and generally work with than traditional high-tensile wire. We plan on replacing all existing fencing with a Premier rope when finances allow- a very nice product.
IntelliRope® PE 4.5
Pamela P
Love it! Very easy to install especially since I haven't put up fencing in many years. Looks good too! Thank you for having a good quality fence at a great price!