Data
---
Specs
Galvanized steel shank
Ring portion is nylon
Steel shank goes half way around inside the white ring
Steel shank is .23" in diameter
Packaged in bags of 25, but sold individually.
---
Benefits
You can purchase a TuffRing II Power Driver to make installing much faster and easier.
Deeply defined threads to provide a secure grip in wood posts.
---
How to Use
Without a Power Driver:
Predrill holes in the wood post.
Screw insulator completely into the post. (Tip: Use a screwdriver—slide the blade between halves of ball and twist to screw in.)
Thread twine and rope, IntelliBraid, MaxiShock or IntelliTape.
through insulator.
With a TuffRing II Power Driver:
Predrill holes in the wood post.
Put bit end of TuffRing II Power Driver into chuck of drill and tighten.
Place power driver over the insulator so the ring of insulator fits into cup of driver. Drive insulator completely into post.
Thread twine and rope, IntelliBraid, MaxiShock or IntelliTape.
through insulator.
Accessories
Listed below are recommended optional components or related items. Your particular situation may require alternative recommendations. Please call and talk to our consultants if there are any questions at 800-282-6631.
Insulators

Allows use of a power drill to rapidly screw in ring-type insulators in and out of wood posts.

Conductors - Tape-Rope-Twine-Wire

Rope fence for both permanent and portable situations because polyethylene filaments resist wear and abrasion. Use for horses, cattle, sheep and goats.

Conductors - Tape-Rope-Twine-Wire

Electrifiable braid conductor preferred by those who wind and unwind twine or polywire frequently. For temporary or portable fences.
Reviews

(21)
Write a Review
You must be logged in to leave a review. Please sign in.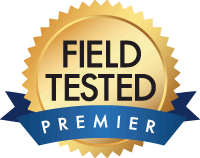 It took us hitting one of these with a tractor to break it, so they live up to their name. A versatile insulator that works just as well as a line fence insulator or a terminal insulator (can be used with P-Springs). This is "our" go-to wood post insulator. When installing, use the power driver. Not designed for use at corners, the rotating PI 21 or Rotating Corner Post insulators are recommended.
TuffRing™ II Insulator
Sheila F from Wisconsin
Good sturdy insulator that is easy to install and holds both rope and wire securely. In addition, we have placed several orders with Premier 1 and have had prompt excellent service each time. They have been wonderful to work with going the extra mile to find and send us a few other items that were listed as out of stock, as we only needed a couple.
TuffRing™ II Insulator
George K from New York
Great insulator.
TuffRing™ II Insulator
Terrence T from Oklahoma
Well made. Worked very well for my application.
TuffRing™ II Insulator
Chris S from Mississippi
My second order of these was in December because I was pleased with the previous product. As time goes forward, in less than 3 years, the insulators are breaking off the securing screw or the black protective coating (plastic I am assuming) is allowing the current to connect with the securing screw. I would not recommend this for anything than a VERY temporary situation. I am slowly replacing each of them one by one as they break. I will start taking pictures of the insulators as they break to support my one star review. I, one for one, do not have time replacing insulators that have been up for less than 2 years.
TuffRing™ II Insulator
Robert W from South Carolina
Perfect for corner and end posts. Much easier than other options. Durable.