Data
---
Specs
Ring: Nylon
Shank: 0.23" diameter (goes half way around inside the ring), galvanized steel
25 per package, but sold individually
---
How to Use
Predrill holes in the wood post.
Put bit end of TuffRing II Power Driver into chuck of drill and tighten.
Place power driver over the insulator so the ring of insulator fits into cup of driver. Drive insulator completely into post.
Thread twine and rope, IntelliBraid, MaxiShock or IntelliTape.
through insulator.
Without a Power Driver
Predrill holes in the wood post.
Screw insulator completely into the post.
Thread twine and rope, IntelliBraid, MaxiShock or IntelliTape.
through insulator.
---
Tip
When installing
without
a Power Driver—use a screwdriver, slide the blade between the halves of insulator and twist to screw in.
Accessories
Listed below are recommended optional components or related items. Your particular situation may require alternative recommendations. Please call and talk to our consultants if there are any questions at 800-282-6631.
Insulators

Allows use of a power drill to rapidly screw in ring-type insulators in and out of wood posts.

Conductors - Rope-Twine-Wire-Tape

Highly visible polyester electric fence conductor with excellent conductivity over long distances. 6mm (1/4") diameter. 25 years probable life.

Fence Connectors and Accessories

All-in-one fence tester checks the voltage of energizers, fences and 12V batteries. Simplify electric fence troubleshooting with one device!

Fencing

Let passersby know that your fences are electrified with this easy-to-read electric fence warning sign.

Conductors - Rope-Twine-Wire-Tape

6mm (1/4") dia. braided rope conductor for electric fences. Black/white color is easy for humans and livestock to see. Polyester for high UV-resistance.

Conductors - Rope-Twine-Wire-Tape

4.5mm (3/16") electrifiable rope for permanent or rotational grazing fences. Tinned copper filaments for high conductivity (50 Ω per 1000 ft).
Reviews

(30)
Write a Review
You must be logged in to leave a review. Please sign in.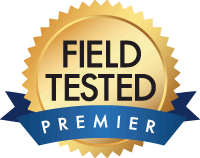 It took us hitting one of these with a tractor to break it, so they live up to their name. A versatile insulator that works just as well as a line fence insulator or a terminal insulator (can be used with P-Springs). This is "our" go-to wood post insulator. When installing, use the power driver. Not designed for use at corners, the rotating PI 21 or Rotating Corner Post insulators are recommended.
TuffRing™ II Insulator
Larry G from Florida
These have to be the best on the market today. I used a competitor brand to supplement when I ran out of these, but they broke during installation and were complete junk. I would recommend these because they are tough. You will be making a big mistake if you use any other brand.
TuffRing™ II Insulator
Steve P from Pacific Northwest
If you have ever had a screw in insulator break off at the base, then this is the one you have been looking for. I performed some destructive testing on my band saw, and found that the steel shank, does in fact, continue through the base, down and around to the centerline of the outer ring, strengthening the common breaking point at the base. These are the only insulators I have found that are built this way, so these are the one's for me! Enjoy!
TuffRing™ II Insulator
Cynthia R from New York
While installing a temporary fence I used farm store insulator rings and twine. My POODLE ran through it and broke the insulators and the twine acted like a epilator. Premier1 tuff rings do not break and the intellabraid is soft to the touch. I also like the driver. It cuts the work of installing insulators in half. I fully recommend Premier1!
TuffRing™ II Insulator
Greg A
Dealing with Premier1 has been a pleasure and efficient quick response time in delivery. The "braided" rope fencing for our horses is good looking, easy to work with and very effective. Well worth the money bar far.
TuffRing™ II Insulator
Paul W
Live up to their name. Other insulators occasionally broke when I screwed into post. Didn't have a Tuff Ring break yet.