IntelliRope® PE 6.0
(49) Read reviews »
Excellent low-tension conductor for both permanent and semi-permanent fences. Virgin polyethylene monofilaments are interwoven with 3 tinned copper and 3 stainless steel conductive filaments.
6mm (1/4") diameter is heavier and stronger than IntelliRope® PE 4.5, but also more expensive.
NEW! IntelliRope® BLUE PE 6.0 similar to our standard IntelliRope®, with blue filaments to enhance visibility to animals (who can see shades of blue).
Which conductor is right for you?
We offer a wide-range of electrifiable ropes, twines and tapes to fit your situation. Visit this link to compare all Premier conductors.
Videos & Data
---
Benefits
Elastic and wear resistant,
IntelliRope®
is commonly used to contain horses, cattle, sheep and goats. It's also an effective conductor for
anti-deer fences
.
Well suited for humid climates because mildew does not thrive on polyethylene (PE). But PE filaments are "slick"—it's difficult to tie a knot in PE rope. Use a RopeLink or Rope Connector for connections.
Can be pre-wound onto an EzeReel XL (Spool Only) or EzeReel XL (Complete).
---
Specs
|   | IntelliRope® PE 6.0 | IntelliRope® BLUE PE 6.0 |
| --- | --- | --- |
| Size | 6mm (1/4") diameter | 6mm (1/4") diameter |
| Color | White / Black / White | White / Black / BLUE |
| Conductivity | 50 Ω per 1000 ft | 50 Ω per 1000 ft |
| Conductive Filaments | 3 tinned copper + 3 stainless steel | 3 tinned copper + 3 stainless steel |
| Non-conductive Filaments | Virgin polyethylene (v-PE) | Virgin polyethylene (v-PE) |
| Visibility to Animals | Very Good | Very Good |
| Mildew Resistance | Excellent | Excellent |
| Ultraviolet (UV) Resistance | Good | Good |
| Breaking Strength | 1200 lbs | 1200 lbs |
| Probable Lifespan* | 10 years | 10 years |
* Probable life is not a warranty by Premier. Why not? Because we know that longevity is highly dependent upon, but not limited to, quality of installation, insulator(s) used, rope tension, animal/wind/snow/ice/vegetation pressure and UV exposure (altitude and climate).
---
Cost
Approximate cost: 9¢ per foot
---
Installation Tips
Regular maintenance is required to adjust the tension of conductors and reset any loose line posts. Tree limbs that fall upon the fence must be removed immediately.
Plug-in (AC) energizers are best if the fence is close to a 110V power outlet. Solar energizers may be a good option for fences far away from an outlet. A wide-impedance energizer such as the Kube 4000 is well-suited for most "4-season" fences—a fence that must work when grass stays brown or snow covers the ground.
Spacing of line posts (not more than 35 ft) must be adjusted to terrain. Always put a post at top of hills and bottom of valleys. Vary the spacing of rope strands according to type and size of animal(s), fence usage (boundary vs. subdivision) and the number of strands.
Suggested Strand Height
(from ground)

:
For Sheep & Goats:

3-strand fence—35", 24", 12"
5-strand fence—36", 27", 20", 13", 7"

For Cattle:

1-strand fence—34"
2-strand fence—34", 22"
3-strand fence—40", 27", 15"

For Horses:

2-strand fence—46", 24"
5-strand fence—60", 48", 36", 24", 12"

For Deer Exclusion:

2-strand fence—48", 30"
5-strand fence—50", 40", 30", 20", 10"
3D anti-deer fence—inside: 48", 18"; outside: 34"
---
Precautions
When cutting the rope to length, lightly burn the ends with a lighter or match to avoid unraveling.
Accessories
Listed below are recommended optional components. Your particular situation may require alternative recommendations. Please call and talk to our fence consultants if there are any questions at 800-282-6631.
Reviews

(49)
Write a Review
You must be logged in to leave a review. Please sign in.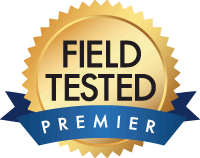 The thickness of this rope (6mm) is ideal for a horse or anti-deer fence. It is very visible and like
IntelliRope® PE 4.5
, it is easy to handle when installing. Both are particularly good for humid climates because mildew doesn't thrive on polyethylene. When installed and maintained properly,
IntelliRope®
has a lifespan of up to 10 years.
IntelliRope® PE 6.0
Lucas A from Virginia
I like the PE 6.0. It isn't soft like the endurasoft, but it feels more rugged. It's just thicker intelitwine. The endurasoft will snag easily on briars or even snag on hooks. The PE doesn't do that. I've been using it for cattle gates.
IntelliRope® PE 6.0
Frank W from Wisconsin
I use this for kids and am positive it works much better than ordinary wire being much more visible.
IntelliRope® PE 6.0
Arkwild I from The Bahamas
We've depended on Premier1 products for nearly 15 years to help us save, and now restore, a rare breed of horse. In a difficult, hard to reach environment the ropes, tapes, posts, chargers etc all work beyond expectations, some of the rope and tape still in use. Thank You to Premier1 for great products and an equally great support team.
IntelliRope® PE 6.0
Mariann V from Michigan
I read previous reviews and did a lot of research on different kinds and brands of fencing before I decided to purchase this product. The quality for the value is why I bought 3 rolls of 1320sqft, in total, of IntelliRope PE 6.0. We Put up two rolls in August of 2018. It made it through the winter beautifully. It is very functional, the horses definitely see it and it is aesthetically pleasing. It was easy to work with and put up. And a bonus is that shipping was speedy! Great product!
IntelliRope® PE 6.0
John A from New York
Had a young horse get scared and run through it. Took the t-post right out of the ground but did not brake the rope and did not hurt the horse. Have my whole pasture done in 6-mm rope now. Great stuff!