IntelliRope® PE 6.0
(49) Read reviews »
Excellent low-tension conductor for both permanent and semi-permanent fences. Virgin polyethylene monofilaments are interwoven with 3 tinned copper and 3 stainless steel conductive filaments.
6mm (1/4") diameter is heavier and stronger than IntelliRope® PE 4.5, but also more expensive.
NEW! IntelliRope® BLUE PE 6.0 similar to our standard IntelliRope®, with blue filaments to enhance visibility to animals (who can see shades of blue).
Which conductor is right for you?
We offer a wide-range of electrifiable ropes, twines and tapes to fit your situation. Visit this link to compare all Premier conductors.
Videos & Data
---
Benefits
Elastic and wear resistant,
IntelliRope®
is commonly used to contain horses, cattle, sheep and goats. It's also an effective conductor for
anti-deer fences
.
Well suited for humid climates because mildew does not thrive on polyethylene (PE). But PE filaments are "slick"—it's difficult to tie a knot in PE rope. Use a RopeLink or Rope Connector for connections.
Can be pre-wound onto an EzeReel XL (Spool Only) or EzeReel XL (Complete).
---
Specs
|   | IntelliRope® PE 6.0 | IntelliRope® BLUE PE 6.0 |
| --- | --- | --- |
| Size | 6mm (1/4") diameter | 6mm (1/4") diameter |
| Color | White / Black / White | White / Black / BLUE |
| Conductivity | 50 Ω per 1000 ft | 50 Ω per 1000 ft |
| Conductive Filaments | 3 tinned copper + 3 stainless steel | 3 tinned copper + 3 stainless steel |
| Non-conductive Filaments | Virgin polyethylene (v-PE) | Virgin polyethylene (v-PE) |
| Visibility to Animals | Very Good | Very Good |
| Mildew Resistance | Excellent | Excellent |
| Ultraviolet (UV) Resistance | Good | Good |
| Breaking Strength | 1200 lbs | 1200 lbs |
| Probable Lifespan* | 10 years | 10 years |
* Probable life is not a warranty by Premier. Why not? Because we know that longevity is highly dependent upon, but not limited to, quality of installation, insulator(s) used, rope tension, animal/wind/snow/ice/vegetation pressure and UV exposure (altitude and climate).
---
Cost
Approximate cost: 9¢ per foot
---
Installation Tips
Regular maintenance is required to adjust the tension of conductors and reset any loose line posts. Tree limbs that fall upon the fence must be removed immediately.
Plug-in (AC) energizers are best if the fence is close to a 110V power outlet. Solar energizers may be a good option for fences far away from an outlet. A wide-impedance energizer such as the Kube 4000 is well-suited for most "4-season" fences—a fence that must work when grass stays brown or snow covers the ground.
Spacing of line posts (not more than 35 ft) must be adjusted to terrain. Always put a post at top of hills and bottom of valleys. Vary the spacing of rope strands according to type and size of animal(s), fence usage (boundary vs. subdivision) and the number of strands.
Suggested Strand Height
(from ground)

:
For Sheep & Goats:

3-strand fence—35", 24", 12"
5-strand fence—36", 27", 20", 13", 7"

For Cattle:

1-strand fence—34"
2-strand fence—34", 22"
3-strand fence—40", 27", 15"

For Horses:

2-strand fence—46", 24"
5-strand fence—60", 48", 36", 24", 12"

For Deer Exclusion:

2-strand fence—48", 30"
5-strand fence—50", 40", 30", 20", 10"
3D anti-deer fence—inside: 48", 18"; outside: 34"
---
Precautions
When cutting the rope to length, lightly burn the ends with a lighter or match to avoid unraveling.
Accessories
Listed below are recommended optional components. Your particular situation may require alternative recommendations. Please call and talk to our fence consultants if there are any questions at 800-282-6631.
Reviews

(49)
Write a Review
You must be logged in to leave a review. Please sign in.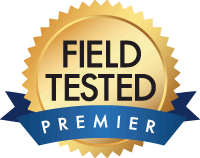 The thickness of this rope (6mm) is ideal for a horse or anti-deer fence. It is very visible and like
IntelliRope® PE 4.5
, it is easy to handle when installing. Both are particularly good for humid climates because mildew doesn't thrive on polyethylene. When installed and maintained properly,
IntelliRope®
has a lifespan of up to 10 years.
IntelliRope® PE 6.0
Lynn W from New York
Works well.
IntelliRope® PE 6.0
Sandra B from Pennsylvania
We began using IntelliRope 4.5 over 20 years ago as we began setting up our various pasture perimeters. Some of the shipment had bad places in it, but Premier replaced immediately. We were first concerned as part of our property has road access about the horses getting out, but that has not been an issue. We ran four strands, it is highly visible and once the horses got used to it, most of the year we do not even have electricity to it. I have seen a large round haybale roll down the hill, go between the wires and it all goes back into position and doesn't take the poles out of the ground. The rope lasted way longer than Premier said it would, and we have now been upgrading over the years with 6.0.
IntelliRope® PE 6.0
Kevin B from Missouri
Service was quick and helpful. I have used IntelliRope for several years and love it.
IntelliRope® PE 6.0
Mike B from Oregon
I would like to thank Premier 1 for helping me plan my 3D anti-deer fence. I think I talked on the phone with just about everyone during my several week learning and planning process (Gordon, Stephanie, Brenda and Jordan). Sorry, if all my questions drove you nuts. I am an engineer and like to understand.

Your website, and most importantly, the people that make up the company (from technical to shipping) are awesome! Everything arrived on time and I was able to get it all set up and running in about 5–6 hours. I could do it faster now that I have done everything once, but I was impressed. Thanks again for all your help. I will let you know how it works and when I expand, I will be back.
IntelliRope® PE 6.0
Diane S from Texas
Purchased to keep horses off of pipe/cable fence. Very easy to set up/install. We used this with the pipe clamp insulators. So far very happy.